Paraguay Raises Key Rate to 2.75% With Biggest Hike in a Decade
(Bloomberg) -- Paraguay's central bank surprised economists by delivering its biggest interest rate increase in a decade as rising prices for food and imported fuel push inflation well above target.
The central bank's board unanimously voted to tighten by 125 basis points to push its key rate to 2.75%. Thursday's decision followed a 50 basis-point hike last month and a 25 basis-point increase at the start of its tightening cycle in August. 
Policy markers expect "to continue the adjustment cycle with a tenor similar to the current decision in the context of the November and December" monthly rate setting meetings, the central bank said in a statement.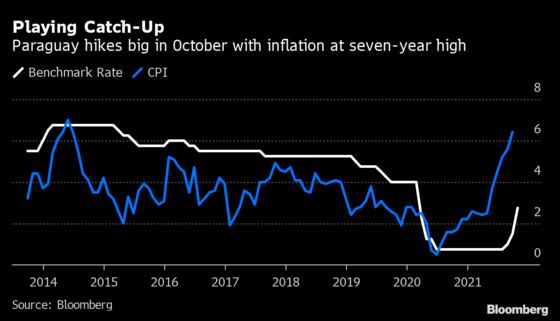 Paraguay's rate increase is one of the biggest in Latin America where many central banks are tightening monetary policy to keep rising inflation from eroding purchasing power and undermining currencies. Analysts who participated in the central bank's most recent monthly survey expected a quarter-point increase Thursday with the benchmark rate ending the year at 2%.
Inflation rose at its fastest pace since June 2014 in September, with consumer prices increasing 6.4%. The central bank's target is 4%. 
The central bank flagged the risks of commodities-driven inflation affecting the prices of other goods and services, while a slower withdrawal of fiscal stimulus could also fuel price gains.