Papa John's Short Sellers May Get Burned
(Bloomberg) -- Papa John's International Inc. short sellers may get burned Wednesday after piling in ahead of earnings that were not as bad as some analysts had feared.
Shares in Papa John's are up as much as 7.4% in early trading, following fourth quarter results that were about what was expected on the Street. The figures come after the pizza chain reported preliminary results earlier this month.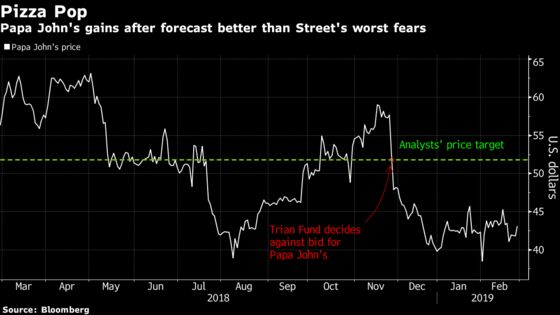 The year forecast for earnings of $1.00 to $1.20, excluding certain items, was "not pretty, though likely better than feared," Stephens analyst Will Slabaugh told clients in a note. Some on the Street were expecting guidance as low as 75 cents to 95 cents, he said.
"We believe market expectations included a choppy recovery and that this quarter's update helped to keep the hope for $2.00 in EPS power alive in a more 'normalized' sales environment," Slabaugh wrote.
Activist fund Starboard Value LP stepped in earlier this month with a $200 million investment and board overhaul to help turn around the chain. Starboard Value CEO Jeffrey Smith, who was named chairman of Papa John's, has said changes will take time. The ultimate risk-reward "is skewed to the upside," Jefferies analyst Alexander Slagle wrote.
Despite the turnaround plans short sellers increased their positions in Papa John's by 35 percent or 1.4 million shares in February, a reversal of January's short activity, when short sellers trimmed exposure by 16 percent and covered 733,000 shares, according to financial analytics firm S3 Partners.