Panic Buying of Canned Tuna Propels Thai Union Into Asian Leader
(Bloomberg) -- A surge in demand for canned tuna and other seafood has turned Bangkok-based Thai Union Pcl into one of Asia's top-performing consumer stocks.
The company that makes the "Chicken of the Sea" brand in the U.S. and "John West" in Europe has rallied 17% in the past week, defying a global stock market rout thanks coronavirus-induced hoarding of canned food. That gain made the seafood processor and wholesaler one of the best performers among consumer stocks in Asia excluding Japan with a market value of at least $1 billion, according to data compiled by Bloomberg.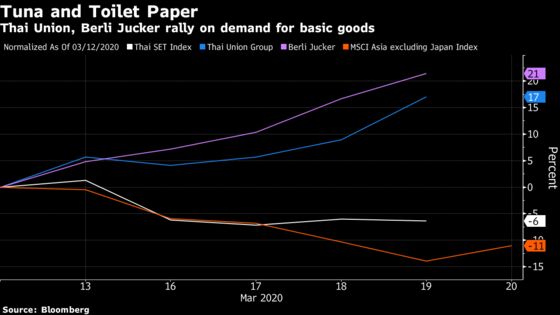 Governments from France, Germany to the U.S. have closed schools, restaurants and bars as well as restricted travels to control the pandemic, prompting shoppers to stockpile foods and necessities. Thai Union earned about two-thirds of its revenue from Europe and the U.S.
Read about how some global consumer stocks have also done well:
'Fight or Flight' Shopping Fuels Australia's Top Stock Sector
"The hoarding of canned foods in Europe and the U.S. will continue to boost Thai Union's sales and earnings," Benjaphol Suthwanish, an analyst at Asia Wealth Securities Co. in Bangkok, wrote in a note this week. "The demand in those major markets are expected to remain strong as the Covid-19 outbreak will exist for some time."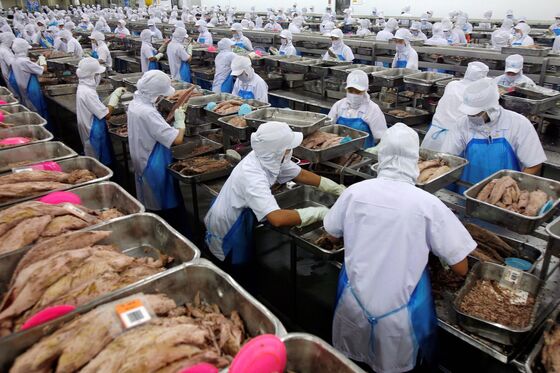 Increased demand for consumer goods in Thailand also propelled shares of Berli Jucker Pcl. The maker of toilet paper and consumer products as well as operator of a hypermarket-retail chain, has rallied 21% the past week. Thailand's benchmark stock index has slid 6% in the period.