Brexit Bulletin: Will She Survive? Survey Says ...
(Bloomberg) -- Today in Brexit: With the biggest risk to a deal coming from opposition back home, a panel of Brexit experts reckons Theresa May will survive to Brexit day.
As European leaders sit down to talk Brexit with Prime Minister Theresa May in Salzburg this week, one of their main concerns is that she won't stay in power long enough to deliver on any deal. A poll of Brexit watchers has some comforting news for them: She probably will.
A survey by the U.K. in a Changing Europe, a research program based at King's College London, found 88 percent of respondents on its Brexit Policy Panel believe May will still be prime minister on March 29, the day Britain leaves the bloc. The results are based on 102 responses from the panel of academics.
As for whether Brexit will actually happen that day, 85 percent of them reckon it will. That's partly because they think it's unlikely there will be a second referendum that could reverse the whole thing. They don't expect the Labour Party to change its stance and start fighting for one.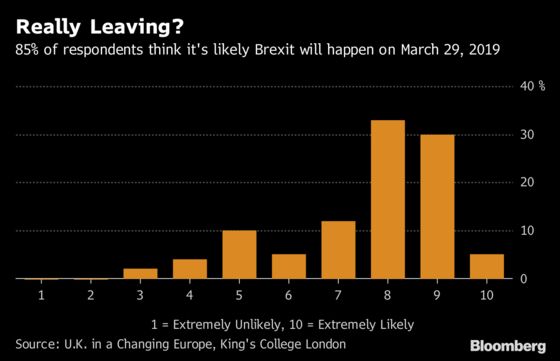 There's a sense in Brussels that May is someone the European Union side can do business with, and as she heads into the Conservative Party conference season, leaders don't want to do anything that could destabilize her.
Don't expect concessions from the EU side at the summit in Salzburg this week, but there could be some warm words for the U.K. and even selectively polite words about her plan for post-Brexit trade. It's a bit reminiscent of the October summit last year, when German Chancellor Angela Merkel had generous words of support for May, which was widely seen as giving her the political cover she needed to make concessions and clinch the preliminary deal last December.
May will talk to the other leaders over dinner on Wednesday, and there's a chance of some bilateral meetings, too. EU chief negotiator Michel Barnier will be there. Officials could finally put a date on the extraordinary summit that is widely expected to be held in November — seen as a late-night affair where the final deal can be signed off. Once conference season is over in early October, the pressure will be ratcheted up: That's when the U.K. will have to come up with more concessions to get the deal done.
Some EU states may press Ireland to drop its opposition to corporate tax reform in return for the bloc's support on Brexit, Dara Doyle reports. While no explicit link has yet been made between Ireland's resistance to a digital tax and the EU's efforts to avoid a hard border, solidarity doesn't come for free, according to a person familiar with the situation.
The head of the European Banking Authority tells the Financial Times that "back-to-back" operations – a practice London banks hope will help them maintain access to EU markets after Brexit – would not be banned after the divorce. The ECB has a different view.
Jaguar Cuts | Jaguar Land Rover is cutting production at one of its plants because of "continuing headwinds" affecting the car industry. The company, whose CEO has been an outspoken critic of Brexit and the government's approach to it, didn't say whether the move was connected. Local Labour lawmaker Jack Dromey said the plant was going to a three-day week until Christmas because of "Brexit chaos."
No-Deal Damage | Failing to get a Brexit deal would be "chaotic and damaging" for the U.K. economy, according to a cross-party panel of lawmakers. The Brexit Committee said in a report published on Tuesday that such an outcome would leave businesses facing "huge uncertainty." The report comes after May indicated that voting down her Brexit deal later this year would leave the country with no deal.
Emergency Laws | The European Commission is preparing emergency legislative changes to financial-market regulation to maintain legal certainty for financial institutions in case of a no-deal Brexit, Handelsblatt reports.
Your Turn | Brexit Secretary Dominic Raab told Welt and other European newspapers that it's time for the EU to make concessions, and the ball is now in the EU's court. Worth remembering that EU officials think that the U.K.'s tough negotiating stance will change after conference season.
Lisbon Too | Portugal is trying to attract asset management firms that are leaving London and is betting on the idea that London won't be replaced by one rival hub. "We're convinced that, post-Brexit, there won't be only one city for the European continent, but an integrated multipolar network with financial centers specialized by activities," Antonio Mendonca Mendes, Portugal's secretary of state for tax affairs, said at a conference on Monday. 
Coming Up | Michel Barnier will brief European affairs ministers late Tuesday and a press conference is expected to follow. EU leaders travel to Salzburg, Austria, on Wednesday for a summit. It will start with a dinner on Wednesday night, at which May is expected to speak briefly about Brexit.
Want to keep up with Brexit?