Pandora Has Tough Start to 2019 
(Bloomberg) -- Pandora A/S, which makes more jewelry than any other company, is planning to step up its game in China as part of a strategy to grow a lot faster in the world's second-largest economy.
"We will significantly increase marketing costs in China in the second quarter,'' Anders Boyer, chief financial officer, said in a phone interview after publishing first-quarter results on Tuesday.
Shares in the Copenhagen-based company rose more than 5 percent by around 12:30 p.m. local time, putting it close to the top of the Stoxx Europe 600 index.
Pandora is trying to hit the reset button after two rough years during which investors lost faith in its strategy. In 2017, it became the target of a hedge-fund attack that shaved 27 percent off its market value that year, and another 61 percent in 2018. The funds acted on a bet that Pandora's charms and bracelets were losing their luster in an increasingly challenging retail landscape.
The company said on Tuesday that its efforts to revive its brand and run its business more efficiently are paying off. That includes scaling back in some corners of the organization. Job cuts since the new strategy was launched in November have reached 1,900, Pandora said.
Boyer says the company's most important markets are showing signs of improvement. In China, revenue grew 15 percent in local currencies after it opened more stores. But like-for-like sales slipped 4 percent after online sales were hurt by increased competition.
"The Chinese market grows and we need to reach a stage where we also grow with the market,'' Boyer said. "The next big step in order to address like-for-like is our brand relaunch which will come later this year, not only in China but also elsewhere."
Pandora's biggest market, the U.S., performed better than the rest of the group in the quarter, according to its first-quarter results. Boyer said that development followed an increase in spending there.
Overall, the company got off to a weak start in 2019 as the cost of launching its new strategy -- dubbed Programme Now -- ate into its results.
The report was the first to be published under Alexander Lacik, who last month took over as chief executive officer after Pandora responded to years of disappointing results by parting ways with a number of its top mangers.
Pandora reported earnings before interest that missed the average analyst estimate, while revenue was broadly with market expectations. The company kept its full-year outlook.
Boyer said it will "take some time" before Pandora is able to deliver solid, sustainable and profitable revenue growth.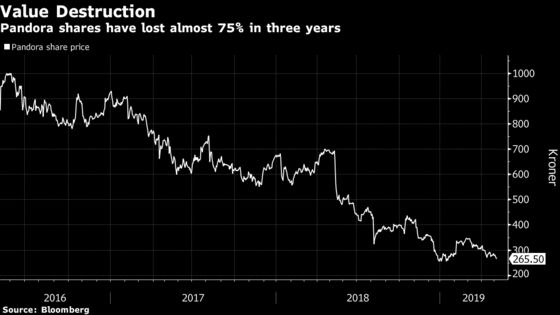 In the meantime, hedge funds have scaled back their attack. But research analysts covering Pandora have adopted a much more critical tone. As of May 6, only three analysts were advising clients to buy Pandora shares, compared with 15 in late 2017.