Pandemic Poses Euro-Entry Challenges for Croatia and Bulgaria
(Bloomberg) -- Bulgaria and Croatia have their jobs cut out for them in their path to adopting the euro, with the coronavirus crisis raising questions about inflation and the health of public finances, the European Central Bank signaled.
In its biannual progress report on seven European Union countries that remain outside the common currency, the ECB said that inflation in Bulgaria has been well above and in Croatia well below the criterion on price stability. In both countries there are concerns about the sustainability of inflation convergence over the longer term.
Bulgaria and Croatia are the only members of the group that are actively seeking to adopt the euro at this point and will likely lock themselves into the ERM-2 pre-entry currency mechanism later this year. Last week, Croatia cleared one of the hurdles on the way to membership after the ECB said its five biggest banks faced no capital shortfalls.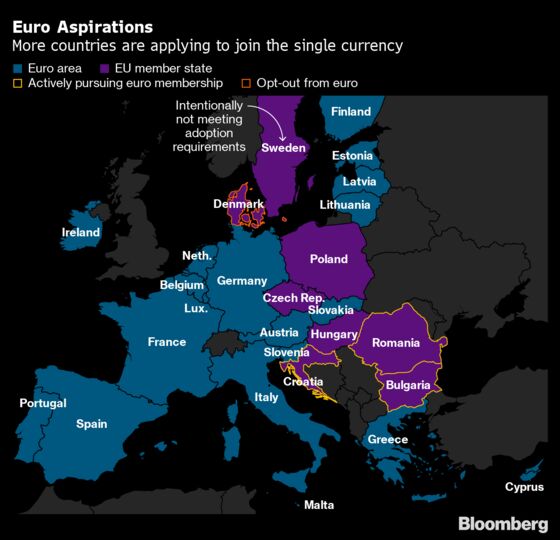 While Croatia complied with the fiscal deficit criterion in 2019, the ECB said "a notable deterioration in the budget position and a marked increase in the debt ratio are expected in 2020-21" because of higher spending to tackle the impact of the pandemic.
"A prudent fiscal policy that furter enhances the efficiency of both revenue and expenditure should put the debt ratio on a long-lasting downward path," the ECB said, urging Croatia to carry out stability-oriented policies to correct its macroeconomic imbalances.
Prime Minister Andrej Plenkovic said last month that Croatia expects to spend about 2 1/2 years in the euro waiting room, before adopting the common currency. Bulgaria hopes to be able to join the mechanism along with Croatia by July, its premier said in April.
The ECB also said that both countries still need to make their laws comply with all the requirements for central bank independence. In the case of Bulgaria, that also includes the prohibition of monetary financing, it said.
"Bulgaria and Croatia have made a number of commitments in policy areas which are highly relevant for smooth participation in ERM-II," the ECB said, adding that "the full assessment of the impact of the coronavirus pandemic on the convergence path will only be possible in the next report, due in 2022."