Pandemic Creates Germany-Sized Drop in Global Consumption
(Bloomberg) -- The amount of global consumption lost in the pandemic roughly equals the size of the German economy, but the slump also led to the biggest ever drop in greenhouse gas emissions.
That's according to a University of Sydney-led study that claims to be the first to quantify the world's economic losses and environmental gains from Covid-19. It reflects the scale of the pandemic's impact as it grounded planes, disrupted supplies and forced stores to close.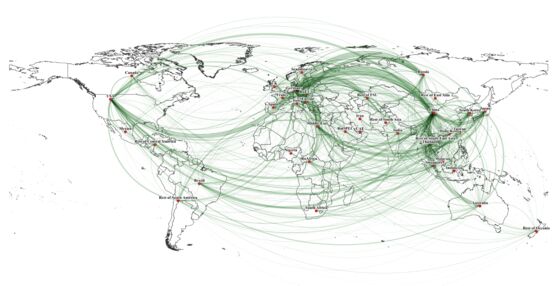 Using live data collected until May 22, the report came up with some staggering statistics. Global consumption dropped by $3.8 trillion and 147 million jobs were lost -- 4.2% of the global workforce. Some $2.1 trillion in income, wages and salaries evaporated.
The U.S. and mainland China have been the two most directly affected economies, with air transport and tourism among the hardest-hit industries. At the same time, the steepest drop in greenhouse gas emissions since the burning of fossil fuels began hundreds of years ago lowered deaths from air pollution.