Pakistan Stops Asia's Worst Performing Currency From Plunging
(Bloomberg) -- Follow Bloomberg on LINE messenger for all the business news and analysis you need.
Pakistan's central bank is said to have intervened to stop a plunge in the rupee, the worst performer in Asia this week.
The South Asian nation's currency fell to a record low 168 to a dollar in intraday trading as per traders before closing at 165.54, data posted on the website of the State Bank of Pakistan showed. The rupee fell 4% this week, according to data compiled by Bloomberg.
The central bank is said to have intervened to avoid unnecessary panic, according to people familiar with the matter. The central bank is committed to a market-based exchange rate and intervenes only to address disorderly market conditions, spokesman Abid Qamar said in response to questions by Bloomberg.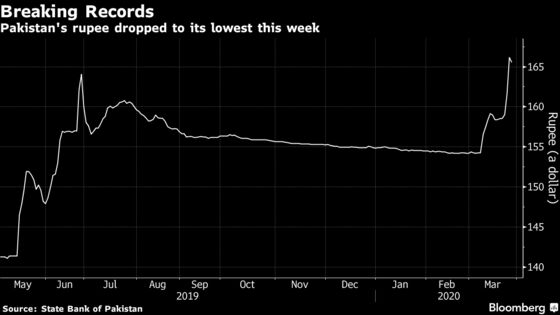 The intervention came as foreign investors were net sellers of $1.6 billion of short-term rupee debt this month after eight successive months of purchases that totaled $3.1 billion. The selling means Pakistan's foreign reserves depleted by more than 5% in a week, Ahfaz Mustafa, chief executive officer at Ismail Iqbal Securities Pvt. in Karachi said.
"Pakistan took a risky bet on hot money and is now paying the price with the sharp outflow and drop in its currency," said Khurram Schezad, chief executive officer at Karachi-based advisory Alpha Beta Core Solutions Pvt. "The nation will escape a currency crisis with global commodity prices falling and the nation suspending fuel imports. The rupee will stabilize around these levels now. "
The International Monetary Fund is working on Pakistan's request for additional funds and a proposal may be considered by its executive board as soon as possible, Managing Director Kristalina Georgieva said in a statement on Friday. Pakistan, which won a $6 billion bailout from the IMF last year, said this week it needs additional $1.4 billion loan to offset the impact of coronavirus on businesses and its economy.