Pacific Quirk May Become Historic Storm Alvin Off Mexico
(Bloomberg) -- There's a weather system swirling in the northeast Pacific that may become the region's first recorded named storm to form in January.
The U.S. National Hurricane Center gives the system, currently about 1,200 miles (1,900 kilometers) southwest of Mexico's Baja California peninsula, a 30 percent chance of strengthening into a subtropical storm in the next five days, with winds exceeding 39 miles per hour.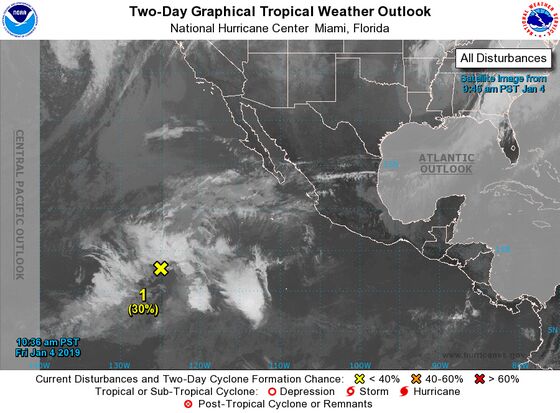 It would probably be a quirky hybrid between a true tropical cyclone and a run-of-the-mill storm. But that would be enough to get a name -- Alvin. This storm broke off from a low-pressure system that traversed the U.S., dumped snow in Oklahoma and the Southwest and is now boosting thunderstorms across the Pacific, said Bob Henson, a meteorologist with Weather Underground, an IBM company.
"It could be historical," Henson said. "It's really unusual."
January hurricanes in the western hemisphere are rare. While there was Hurricane Alex in 2016 in the Atlantic near the Azores, the tempests thrive on warm water and the seas tend to be cold this time of year.
The location means it's not much of a threat, and if Alvin does form, Henson said it would be short lived.