P&G Blames Beards for Grooming Decline But Sees Hope From Ad
(Bloomberg) -- The return -- and staying power -- of the beard is a problem for Procter & Gamble Co.'s shaving business, but its much-discussed Gillette ad about toxic masculinity could help offset that.
The company reported strong sales this quarter in nearly every category -- except for its grooming segment. Organic sales in that unit fell 3 percent, a trend Chief Financial Officer Jon Moeller said can be traced to fewer clean shaves.
"The reduction continues to reflect societal trends in terms of shave frequency," Moeller said on a Wednesday morning call with media. He also noted the way razors and blades are sold means a lag time in sussing out trends. "The purchase cycle is a very long cycle -- if you just purchased a package of 12 razor blades from us or from somebody else, we probably won't see you in that category for a year."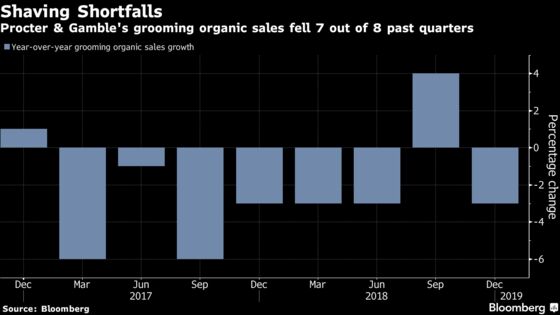 P&G shares rose as much as 5.1 percent as of 9:32 a.m. in New York, the biggest intraday gain since October.
The grooming unit's decline isn't just about men growing beards. Competitors like Dollar Shave Club and Harry's -- plus private label brands -- have hurt a business where P&G was once largely unrivaled. Still, the company's recent ad campaign could help offset that.
"The Best a Man Can Get," which describes a rift between a past and a "new era" of masculinity amid the #MeToo movement, drew immediate, impassioned reactions on social media when it was released earlier this month. The ad came after the end of the latest quarter, so its impact wasn't reflected in grooming unit results, but it's already had the intended effect, Moeller said.
He called the ad part of an effort "to connect more meaningfully" with consumers and said after airing once, it's already generated "significant conversation." While that hasn't always been positive, with some critics calling the spot divisive, Moeller said it hasn't had a negative effect.
"Retail sales trends are in line with pre-campaign levels," he said, citing "unprecedented" levels of media coverage and consumer engagement.
In fact, going forward, P&G said it expects the grooming unit to perform this year more like it did in the first quarter -- when sales grew 4 percent -- not like the latest period. The launch of Skin Guard in North America and Europe and progress in adding users to its shave club were cited as positive factors.
Now if only men would start shaving again.