Over a Fourth of Michigan's Workforce Has Filed for Unemployment
(Bloomberg) -- The state of Michigan, one of the hardest hit by the spread of the coronavirus, has seen more than a quarter of its workforce file for unemployment benefits.
The number of Covid-19 cases has climbed to 25,635, while the death toll has reached 1,602, Governor Gretchen Whitmer announced during a press conference Monday. More than 1 million Michiganders have sought jobless benefits, according to the state's labor department.
Whitmer, 48, is one of the candidates Joe Biden, the presumptive Democratic presidential nominee, is considering for his running mate. She governs a crucial swing state that President Donald Trump won by a slim margin in 2016. Biden and other national Democrats have rallied to her defense in the wake of recent attacks waged from the White House.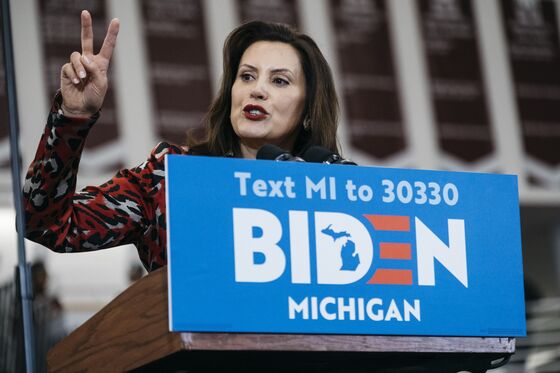 A Michigan Democrat who is close to Whitmer and requested anonymity to speak candidly about Biden's decision-making process said earlier that Whitmer would be a strong running mate but questioned whether she would be selected if the pandemic continues to wreak havoc on her state and demands her attention.
Whitmer said during the press conference she was unaware of Trump's tweet Monday in which he claimed to have the power to decide when states reopen their economies because she was in a meeting with other governors and Vice President Mike Pence.
"The government doesn't get opened up via Twitter, it gets opened up at the state level," Whitmer said. "I'm working with my colleagues across the country to make sure we're thoughtful."
More data and planning is needed to make those decisions, she added. "We've got to make sure we avoid a second wave at all cost because that would be devastating for our economy. So we're going to make decisions based on science and having a real strategic phase-in of our economy when it is appropriate and safe to do so."