Landslide Win for Outsider Ends Two-Party Rule in El Salvador
(Bloomberg) -- A 37-year-old outsider campaigning on an anti-corruption ticket won a surprise first-round victory in El Salvador's presidential election, bringing an end to decades of two-party rule.
Nayib Bukele, a former mayor of the capital city, got 53 percent support in the Feb. 3 vote, according to the electoral authority, avoiding the need for a March run-off. He defeated opponents from the conservative-leaning ARENA party, and the leftist FMLN party, which have dominated politics since the nation's civil war ended in 1992.
He'll be sworn in for a five-year term on June 1.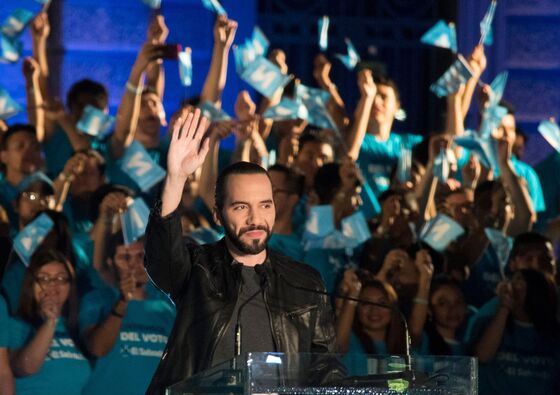 Bukele will take over an economy that has lagged peers in one of the world's fastest-growing regions, driving hundreds of thousands to flee to the U.S. He may also have strained relations with President Donald Trump, who threatened to cut off aid if El Salvador and its neighbors can't stop migrant caravans heading toward the U.S.
The nation's dollar bonds due 2035 fell, sending yields up 0.1 percentage point to 7.66 percent. Last week yields on the bonds reached their lowest level since July.
Bukele has pledged to boost taxes on luxury goods, and loosen the fiscal responsibility law which limits the government's ability to borrow.
"There's still some degree of uncertainty around what his economic policy will be," said Eurasia Group analyst Risa Grais-Targow. "Signposts are going to be his economic team, whether or not he brings in more experienced economists, and investors are going to be concerned about any attempt to increase spending."
He will also need to tackle the gang culture, which has made El Salvador among the most violent countries in the world. Bukele says he'll use "big data" to tackle crime and crumbling roads, and has pledged to build a new airport.
Though Bukele's win was widely expected, a win for his conservative opponent would have been a positive surprise for investors, according to a Feb. 1 report by Nomura Securities.