Orange Is the New Red as 2019 Kicks Off With Juice Prices at Fresh Low
(Bloomberg) -- In the 1983 comedy "Trading Places," the characters played by Eddie Murphy and Dan Aykroyd celebrate their victory over the powerful Duke brothers in the futures pit for orange juice. In the real world of electronic trading, the commodity is causing headaches for bulls.
Orange juice in 2018 fell, partly because of shrinking U.S. demand, and the annual percentage change went to red for the second straight time. Crop-disease concerns dissipated in Florida, the top U.S. grower, after citrus greening in groves in previous years led to green on the futures screens.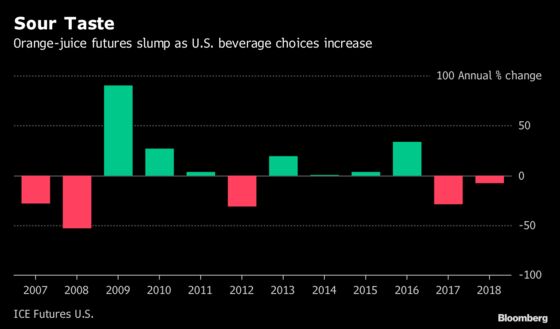 The outlook for the new year appears foreboding for bulls. On Thursday, the price touched $1.218 a pound on ICE Futures U.S. in New York, the lowest for a most-active contract since March 2016. The commodity has dropped in 11 of the past 12 sessions. Frost threats haven't surfaced in Florida, and the breakfast staple has fallen out of favor as consumers increasingly avoid sugary drinks and stores offer a plethora of alternatives.