Optimistic Analyst Calls Are Not Stopping Bank Stocks From Bleeding
(Bloomberg) -- Bank stocks are on a five-day losing streak, even after Deutsche Bank said they're probably oversold, and Wells Fargo analyst Mike Mayo boosted his recommendation on Morgan Stanley.
The KBW Bank Index has stumbled as much as 2.3 percent today, reaching a 13-month intraday low. That might be too low, Deutsche Bank's Matt O'Connor writes, as "slower revenue growth seems priced in, we don't expect a recession over the next six months, and valuations are well below historical levels." Deutsche Bank favors brokers Goldman Sachs Group Inc. and Morgan Stanley, along with several regional banks, including Citizens Financial Group Inc. and PNC Financial Services Group.
O'Connor views the KBW Bank Index sell-off of about 18 percent since its Feb. 1 high in two stages, with the decline through Sept. 20 driven by revenue growth concerns, tepid loan growth, pressured fees and mixed capital markets revenues. He also flagged concern net interest margins may be peaking soon as "deposit volumes/betas become a headwind."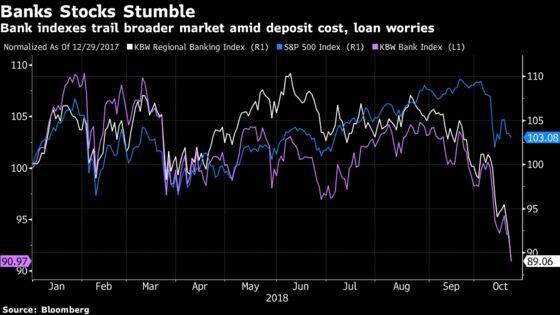 Since then banks and the overall market may be "going through a typical correction given concerns over how sustainable GDP growth is and uncertainties surrounding geopolitics, trade, and U.S. elections." Geopolitical concerns in recent days including worries about Saudi Arabia. Bank valuations, O'Connor says, are now attractive relative to the market.
Morgan Stanley shares fell as much as 1.7 percent on Wednesday, even though Wells Fargo analyst Mike Mayo upgraded his recommendation on the stock to outperform, as his theme of "Goliath is winning" applies to Morgan Stanley's industry lead in capital markets and wealth management.
On Tuesday, bank stocks dropped as earnings reports showing slightly more lending in the third-quarter didn't outweigh concerns about generally sluggish growth, or the fear that the costs of higher interest rates are overshadowing the benefits. KBW equity strategist Fred Cannon flagged macro factors including a flatter yield curve, a hawkish Fed and trade worries, along with rising deposit costs and disappointing loan growth. Cannon added there aren't any catalysts for buying the stocks, as earnings estimates haven't changed.
BNP Paribas economists and strategists including Bricklin Dwyer in a note cited "uncertainty about mid-term elections" in a discussion of U.S. stock declines on Tuesday. They also noted concerns about the impact from the China trade dispute hitting corporate forward guidance, disappointment with banks' earnings, and markets talking about the Federal Reserve raising interest rates too much.
Relief for banks may be on the way -- via stock buybacks, KBW's Christopher McGratty writes in a note. Fundamental concerns, including slower loan growth and peaking margins due to rising deposit costs, along with technical factors, like ETF flows are probably driving banks' recent under-performance, McGratty says. But, significant capital positions and blackout periods are coming to an end, which may trigger share repurchases that might help support many stocks.
He flags Bank of America Corp., Citigroup Inc. and Wells Fargo & Co. among the biggest banks, along with Comerica, M&T Bank and Zions. During midday trading in New York, BofA shares were dropping about 2.1 percent, Citi's were down about 1.5 percent, and Wells Fargo's were slipping about 1.9 percent.