Sales Team Rap Video Adds to John Kapoor's Woes at Opiod Trial
(Bloomberg) -- Just over two weeks into the racketeering trial of Insys Therapeutics Inc. founder John Kapoor, a Boston jury has a new item to consider in a catalog of dubious tactics the company is accused of using to push sales of its opioid drug.
Prosecutors played a five-minute in-house rap video extolling the virtues of persuading doctors to prescribe higher doses of the Insys's liquid opioid, Subsys, and featuring the company's vice president of marketing Alec Burlakoff in a giant prescription bottle.
Borrowing its beat from an ASAP Rocky hit, the video was played for the jury, with federal prosecutors claiming the company's sales plan relied on convincing doctors to quickly increase Subsys dosages through a process known as titration, while paying them kickbacks through phony speakers programs.
"I love titration. Yeah it's a not a problem," rapped the cast in the video called, "Great by Choice." "I got new patients and I got a lot of 'em."
"Build relationships that are healthy," the song went on. "Got more docs than Janelle's got selfies."
A few jurors appeared amused by the video. One female juror bobbed her head to the heavy bass as Burlakoff appeared dressed as a giant prescription bottle of the company's potent painkiller sprayed under the tongue. The bottle is labeled prominently with the drug's maximum dosage -- 1,600 micrograms.
Even with the mounting evidence of unscrupulous sales tactics -- which included a lap dance by a former stripper turned sales rep to supplying doctors with easy money to boost prescriptions -- it remains to be seen whether jurors will conclude that Kapoor, 75, himself is responsible.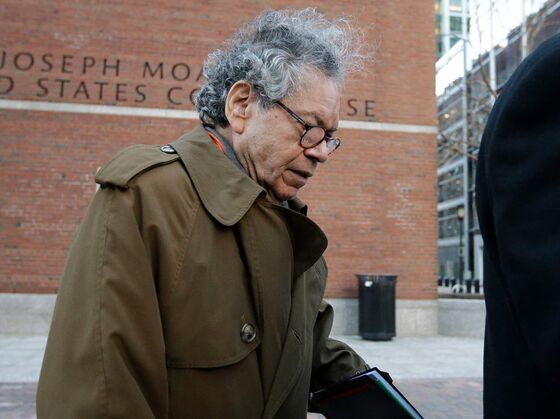 While recognizing he was a demanding boss, his lawyers argued in opening statements that he didn't know his underlings were cutting side deals with doctors. They put the blame on Burlakoff.
Former Insys CEO Michael Babich, who pleaded guilty to conspiracy and fraud, said when the video was first played at a 2015 sales meeting, he was sitting next to Kapoor, his longtime mentor, in the back of the room.
"If you wanna be great, listen to my voice," the singers rapped. "You can be great, but it's your choice."
Kapoor had deduced through charting doctors' prescriptions for Subsys that patients who started on the lowest doses dumped the drug in favor of competing opioids, according to Babich.
The company's budget included sales bonuses tied to the dosage of the Subsys prescriptions. A prescription for the 1,600-microgram dose would earn a bonus of $1,830, Babich said. Insys shares have lost about 90 percent of their value since their peak in 2015. They closed up 0.4 percent to $4.72 on Wednesday.
Insys gave bonuses for higher doses of Subsys in the first quarter of 2013 to boost sales before an initial public offering that year, Babich testified Thursday -- his third day on the witness stand.
"It was extremely important to show a profit so we could tell the investors when we were marketing the company," Babich said.
"Who is we?," asked prosecutor Nathaniel Yeager.
"Myself and John Kapoor," Babich replied.
Kapoor's lawyers have portrayed Babich as a liar desperate to blame others for his decisions. Under his cooperation agreement with the government, Babich will keep $40 million he made from the sale of Insys stock just as investigators arrived, Kapoor's attorney had told the jury.
The rap video winds down with Burlakoff, who had once been a high school coach and counselor in Florida, throwing off the giant pill bottle, rapping the chorus and strutting from his home pumped up to inspire sales. Burlakoff pleaded guilty to racketeering in November and is expected to be a witness against his former colleagues.
The case is U.S. v. Kapoor, 16-cr-10343, U.S. District Court, District of Massachusetts (Boston).