Ontario Plans to Lift All Covid-19 Restrictions in Six Months
(Bloomberg) -- Ontario unveiled a plan to lift all public health restrictions related to Covid-19 in the next six months, bringing a return to normal life into view for residents of Canada's most populous province.
Starting Oct. 25, Ontario will restore full capacity to many businesses that currently require vaccination to enter, officials said Friday. They include restaurants, bars, gyms and casinos.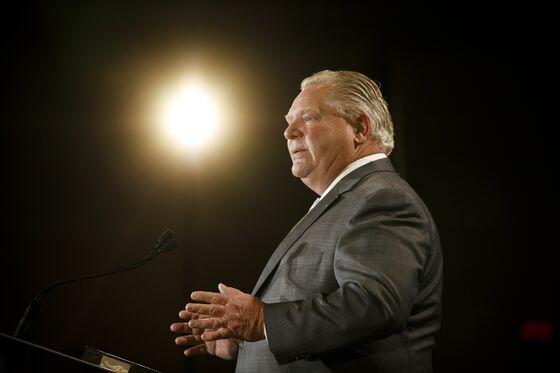 It's the first step toward lifting all public health restrictions by March 2022, the officials said, citing rising vaccination rates and declining coronavirus infections. 
Further steps will include lifting capacity restrictions in higher-risk settings that currently require vaccination, like night clubs, by November, and then ending vaccination requirements entirely for some businesses starting in January. 
By March 28, the province says it plans to lift requirements to wear face coverings in indoor public settings, and the requirement to show proof of vaccination anywhere.
All these steps will depend on Covid case counts and hospitalizations continuing to stay low, officials said.
"This plan is built for the long term," Ontario Premier Doug Ford said at a news conference announcing the new measures. "It will guide us safely through the winter and out of this pandemic, while avoiding lockdowns and ensuring we don't lose the hard-fought gains we have made."
Reopening carries risks. In some regions that previously tried to lift restrictions, like the U.K., there was a corresponding rise in cases because of the faster-moving Delta variant.
Roughly 88% of eligible Ontarians have been inoculated with at least one dose of a vaccine protecting against Covid-19, government data show.
"The reason we're able to move forward is because people went out and got vaccinated," Ford said. "Hopefully in another week or close to it we'll hit our 90% target on the first doses, and shortly thereafter second doses." 
Ontario reported 492 new Covid-19 cases on Friday, the highest since Oct. 15, though the seven-day average has been trending downward since September and is now at 406 cases. Hospitalizations and active cases have also been declining, government data show.