One Winner From Draghi's First Meeting of 2019? Italian Bonds
(Bloomberg) -- Italy's bond recovery is getting a boost from the European Central Bank.
Benchmark yields fell to their lowest level in six months Friday on speculation the nation's banks would be among the prime beneficiaries of any extension of cheaper loans to banks. ECB President Mario Draghi said the policy was discussed at Thursday's meeting and also saw the balance of risks for the euro-area economy moving to the downside, a sign the central bank is in no hurry to raise interest rates from record lows.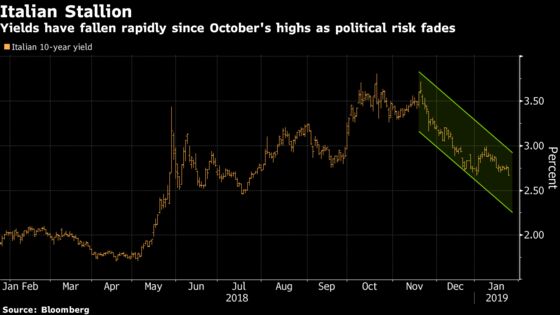 Italian yields have fallen more than 100 basis points since hitting four-year highs in October after the country resolved its budget dispute with the European Union. Investors snapped up nearly 20 billion euros ($22.7 billion) of bond issuance from Italy this month, with record order books, as they pared back expectations for ECB policy tightening.
"The implication is bullish for Italian spreads," said Antoine Bouvet, an interest-rate strategist at Mizuho International Plc. "It will keep grinding tighter."
Ten-year yields have dropped for a third straight week, sliding eight basis points this week to 2.65 percent, the lowest since July. The spread over Germany has narrowed to 246 basis points, near the lowest level since September.
Traders in money markets are not pricing an ECB deposit-rate hike until June next year following the ECB meeting. Draghi suggested that any push toward cheaper loans, known as TLTROs, may not be imminent, and that a regional recession wasn't seen as likely. The central bank needs to see the monetary-policy case for new TLTROs, he said.
Still, the ECB has stimulus measures such as TLTROs in the locker, strategists said. While global risks have grown, stemming largely from the U.S.-China trade conflict and a disappointing growth outlook, HSBC Holdings Plc said that Europe's peripheral economies -- Spain, Portugal and Italy -- were more resilient to shocks.
The ECB's dovish stance should boost the hunt for yields and tighten Italy's yield spread to Germany, said Michael Leister, head of rates strategy at Commerzbank AG, who expects an announcement on TLTROs as soon as March. The spread might not go below 200 basis points given continued political and economic risks in Italy, he said.