One Chart Shows Just How Extreme the Rally In U.S. Treasuries Is
(Bloomberg) -- One of the great market mysteries of the moment is stubbornly low yields on U.S. Treasuries, with the benchmark 10-year now dipping below 1.35%.

While bond investors could be implying rather dismal expectations about the outlook for the U.S. economy, the move lower in yields seem extreme to some at a time when economic growth is still expected to run relatively high and inflation expectations have barely budged.

To see just how extreme, take a look at the below chart from JPMorgan Chase & Co. analysts led by Jay Barry.

It shows U.S. Treasuries have deviated from the level implied by JPMorgan's fair value model — which takes into account things like the recent strength of economic data and expectations for the Federal Reserve — by the most since the giant flight to safety of March of 2020 and the fall of early 2020.
"Though the data flow since late last week came in weaker than consensus expectations, the 10+bp decline in 10-year yields since Friday morning seems outsized all considered. Indeed, medium-term market-based inflation expectations have barely budged the last two days (even with crude prices down 2% today), and the market-implied timing to Fed liftoff has moved little as well. Thus, net of these factors, Treasuries have diverged further from our fair-value framework. Though yields tend to mean revert with relatively low frequency, 10-year Treasury yields now appear 25bp too low relative to their drivers, a 3-standard deviation divergence, and the largest such deviation since the early fall 2020 (Exhibit 1)."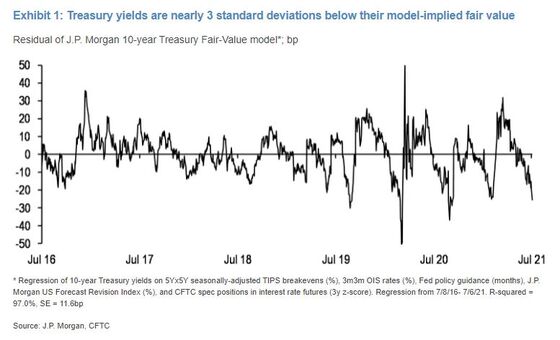 Models should obviously always be taken with a grain of salt, but the suggestion here is that anyone caught on the wrong side of the rally in U.S. Treasuries has been having a very difficult time — scrambling to snap up Treasuries after going short. As Barry puts it in his note (which carries the simple but effective title of "Prediction? Pain"), positioning technicals "are exaggerating the moves in Treasury yields as of late."