Rate-Hike Hat Trick Turns Costly Czech Debt Into Cheap Haven
(Bloomberg) -- Thanks to its trailblazing central bank, the Czech Republic's government bonds have morphed from some of the costliest in the world to cheap haven asset.
The notes appeal because they yield more than Spain or Portugal despite the central European country's higher credit rating and far lower debt burden, said Ales Prandstetter, chief strategist at CSOB Asset Management AS, which oversees $10.25 billion. Like many other local investors, the KBC Groep NV unit steered clear of increasing its holdings of the bonds when yields were at zero or less between 2015 and 2017 as a result of the central bank's extraordinary stimulus. Now it's plotting a return.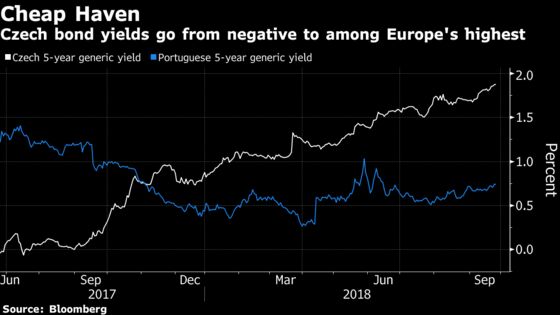 "We're glad the central bank is raising rates because it now begins to make sense to gradually buy into at least the shorter-dated bonds," Prandstetter said in an interview. "It will be a good place for us to hide when the sentiment toward equities starts souring. Some foreign bondholders are right now staying on the sidelines because of emerging-market turbulence. When that subsides, they'll be back."
Czech yields have jumped as resurgent inflation prompted policy makers to tighten policy ahead of their continental peers. The central bank hiked interest rates on Wednesday for the third time in a row and the sixth time since April 2017 when the regulator ended its Swiss-style cap on currency appreciation.
Since the end of the intervention regime, the koruna has gained more than 5 percent against the euro, and analysts surveyed by Bloomberg project it will strengthen another 3.7 percent by the end of next year, adding to Czech bonds' appeal for foreigners. The ex-communist country owes its haven status to a virtually balanced budget, robust economic growth, and the fourth-lowest public-debt burden in the 28-member European Union.
Short-term local debt briefly overtook Swiss bonds as the costliest in the world in 2017. The period of zero or negative returns on shorter maturities forced local investors like CSOB to boost their holdings of cash as well as higher-yielding assets such as domestic and foreign equities or corporate debt. The relatively small and illiquid Czech stock market is often treated as an alternative to fixed-income investment because the largest companies offer generous and stable payouts.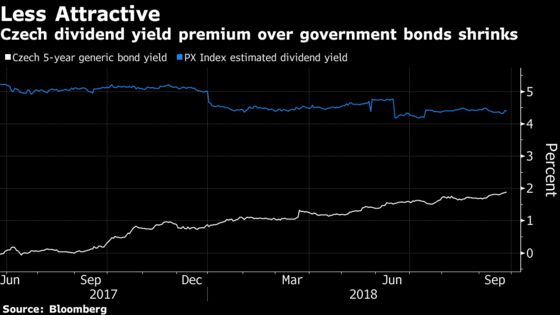 "We used to like Czech stocks for their high dividend yield, but they are now relatively less attractive as the premium over longer-term government bonds shrank," said Prandstetter. "The solid premium over the euro area and other fundamentals make the domestic fixed-income market quite attractive."