Once Europe's Most Mobile Workforce, Poles Now Want to Stay Home
(Bloomberg) -- Brexit, surging paychecks and record-low unemployment has turned what was once one of Europe's most travel-ready workforces into a nation of homebodies.
Since it joined the European Union in 2004, about 2.6 million of Poland's 38 million people emigrated, leaving behind low wages and double-digit unemployment for more lucrative jobs in richer Western Europe. But years of economic transformation have combined with the U.K.'s plan to leave the EU -- Britain was once Poles' favored destination -- to wipe out wanderlust in the EU's biggest eastern economy.
Now nine out of 10 Poles reject the idea of emigrating, according to a survey published by Work Service SA on Tuesday. That's the most since the human resources company began the poll four years ago, when a fifth of the population was considering leaving. Almost 40 percent of those surveyed cited "attractive workplaces" in Poland as the main reason they wanted to stay home.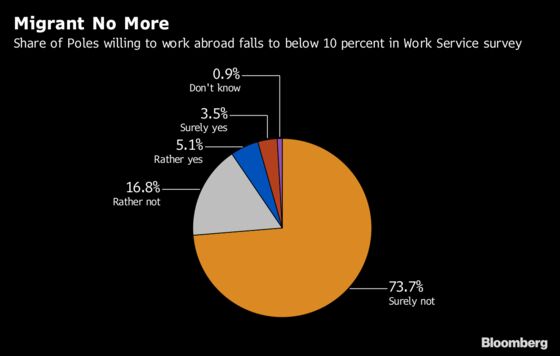 "For the first time in the history of our surveys, we see a single-digit number of Poles thinking about working abroad," Work Service Chief Executive Officer Maciej Witucki said in an emailed statement. "Undoubtedly, it's thanks to the improving situation on the labor market, which is not only weakening interest in foreign jobs, but it's making people simply reject that idea at all."
Average salaries have risen at an annual pace of 7 percent for the second year running, bringing the average pay at large companies to about 4,000 zloty ($1,046) a month. The unemployment rate is at 3.6 percent, according to Eurostat methodology, one of the lowest in the EU.
Of those 9 percent of Poles in the survey who were considering moving abroad to work, only a third said they might go to the U.K. Now the favorite destination is neighboring Germany, followed by Norway and Sweden, according to Work Service.