Once a Beacon for U.K. IPOs, Alfa Veers Toward Small-Cap Status
(Bloomberg) -- Alfa Financial Software Holdings Plc's trading debut in May last year was part of a revival in the U.K.'s moribund market for initial public offerings, which had dried up after a vote to leave the European Union.
It gave the the country the largest technology offering in two years, jumped 32 percent by the end of the first trading day, and its market value topped 1.6 billion pounds ($2.1 billion) by year-end.
But when the exchange closes on Wednesday, the software provider for asset financing businesses could be officially declared a small cap.
On Monday, index operator FTSE named Alfa as one of four stocks eligible for removal from the FTSE 250 mid-cap benchmark, after a 70 percent drop in the stock since a record high in December.
The reversal in fortunes came after two profit warnings: one in March, citing dollar weakness in the latter part of last year -- with half of Alfa's revenue earned in the U.S. -- and another in June, after a major customer delayed a project.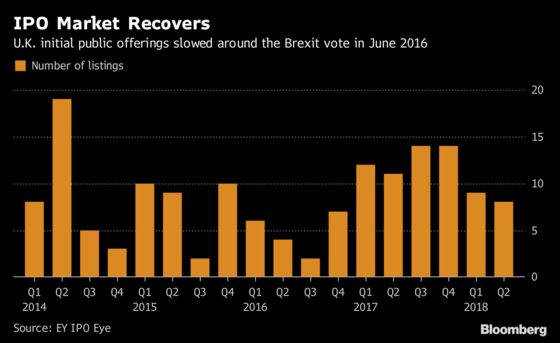 The stock's dramatic losses lay bare the ruthlessness of U.K. capital markets amid heightened economic uncertainty, with 20-plus-percent stock plunges following profit warnings becoming frequent.
For Alfa, which reported a 60 percent decline in first-half adjusted earnings per share on Tuesday, questions remain over whether it can recover its previous growth profile. Until contract wins resume, the market will remain cautious, Barclays analysts including Gerardus Vos wrote in a note to clients on Wednesday.
Regarding a potential index change, an Alfa spokesman said the company's focus is on converting its opportunities and "taking the business forward."