The 177-Year-Old Travel Firm Usurped by Web Newbie
(Bloomberg) -- Web-based vacation retailer On the Beach Group Plc's market value surpassed that of high street favorite Thomas Cook Group Plc, reflecting a metaphorical changing of the guard in the U.K. travel sector.
Shares of On the Beach jumped as much as 4.9 percent on Wednesday after the Manchester, England-based firm said full-year sales rose by almost a quarter. Meanwhile, London-based Thomas Cook extended a two-day plunge to as much as 32 percent after a profit warning Tuesday.
The respective share moves gave On the Beach, whose first site went live in 2004, a market capitalization of 554 million pounds ($707 million) as of 10 a.m. in London, while Thomas Cook, with a history tracing back 177 years, was worth 540 million pounds.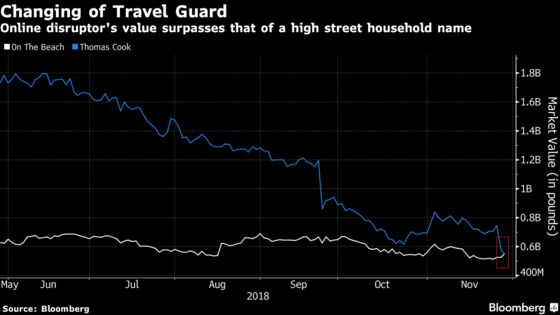 While both companies' summer bookings were constrained by soaring temperatures in Britain, On The Beach said it was able to reduce marketing spend appropriately, bolstering margins. Ivor Jones, an analyst at Peel Hunt, the company's corporate broker, noted an increase in people specifically searching for On the Beach's offerings, while repeat purchases were also on the rise.
But Thomas Cook, which now also makes more sales online than it does in store, operates flights and hotels, leaving it at greater risk to unexpected changes in demand. There was more pain for the company Wednesday as it faced additional projections of reduced earnings, with both Morgan Stanley and Citigroup Inc. cutting estimates for the London-based firm.