Ominous Signs Grow for Turkish Earnings After Months of Turmoil
(Bloomberg) -- Scars from the turbulence that has shaken Turkish markets this year should be evident when local companies kick off the earnings season next week. Analyst estimates suggest the reports will just be the start of the bad news.
Spiraling inflation and growing tensions with the U.S. have battered the Turkish economy. The lira weakened 24 percent against the dollar in the third quarter alone, driving up costs for chief executives who borrow abroad to fund their expansion, while benefiting those focused on overseas sales.
"Companies with high foreign currency debt are likely to see a significant drop in net profit, while operating profits of companies with foreign currency income may rise by 30 percent to 60 percent year-on-year," said Emre Sezan, the head of research at Istanbul-based Is Investment.
Seeing as rising production costs may take a while to show up in company results, there is still potential for a few positive surprises on profit margins in the looming updates, said Sezan. He is less optimistic about what lies ahead for subsequent quarters, a view backed up by analysts who have taken a red pen to earnings estimates.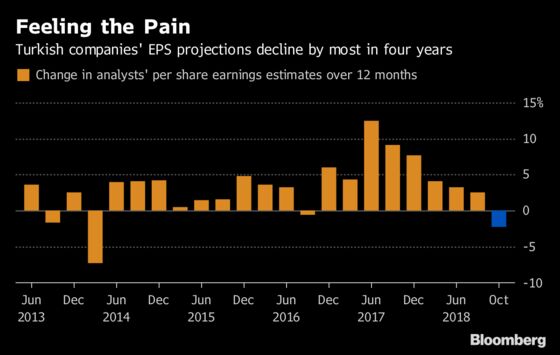 Expectations of a slowdown in the economy are weighing on the outlook for earnings later in 2018 and in 2019. Most of that impact probably won't be seen in the third quarter, but in the reporting periods after that, according to Sezan.
It hasn't been all bad news of late: The release of U.S. pastor Andrew Brunson last week prompted some positivity in Turkish markets and Treasury and Finance Minister Berat Albayrak said Oct. 15 that the economy has left behind a "bad period" in borrowing costs and exchange rates.
The view of analysts presents a less optimistic picture. Estimates for company earnings in the next 12 months have dropped two percent since the end of June, data compiled by Bloomberg show. That is the first retreat in more than two years and the biggest cut since the quarter that ended in March 2014.
Sharp increases in interest rates and the lira's weakness are the main drivers behind the lower projections, according to Toygun Onaran, head of equity research at Istanbul-based Oyak Securities.
"In addition, the anticipated slowdown in the economy is negatively affecting revenue growth expectations, while cost inflation is suppressing margins," he said. "The sum of all these effects is a steep decline in earnings-per-share prospects."