More Than Half of Workers Would Consider Quitting Before Returning to the Office
(Bloomberg) -- Workers grew more uncomfortable about heading back to the office in the first week of the year and were much more likely to consider quitting if their employer demanded they return, a sign that companies' efforts to get people back amid rising Covid caseloads face stiff resistance.
The share of remote workers who would consider leaving their job if they were asked back to the office before they felt safe rose to 55% as of Jan. 6, up from 45% just a week earlier, according to pollster Morning Consult. More than 4 in 10 workers felt unsure about returning to the office, compared with 35% who said so on Dec. 30. 
People were also less likely to want to attend indoor sporting events, go to the movies and dine out, Morning Consult's weekly U.S. survey found.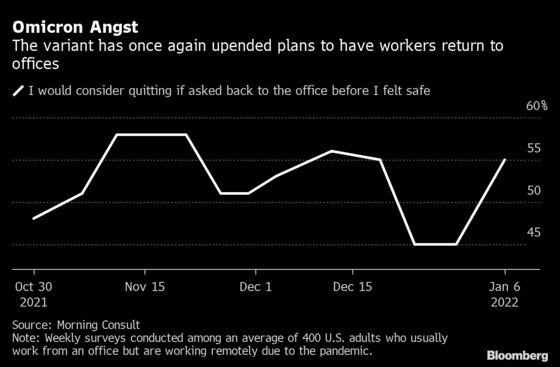 The findings come as Robinhood Markets Inc. said it would allow most employees to work remotely on a permanent basis, while companies including Facebook parent Meta Platforms Inc. and Wells Fargo & Co. once again delay plans to bring employees back to their desks as the omicron variant sweeps through the U.S. 
The surge has led to staffing shortages with millions of Americans calling in sick, on top of those who have already quit, sapping the nation's economic recovery. Employers are also unsure whether the Supreme Court will toss out the Biden administration's proposed rule requiring worker vaccines or weekly tests, clouding the workplace situation even more.
"When organizations don't communicate effectively about what the future looks like, it creates uncertainty and can cause people to quit," said Jim Harter, chief scientist of workplace and wellbeing at Gallup Inc. "Matching what employers and workers want going forward is essential, because work will never be the same again."
About 40% of workers in 10 of the largest U.S. business districts were going into offices in early December, according to data from Kastle Systems, but that plummeted to 17.5% by the end of the month and stood at 28% for the week ended Jan. 5.