Old Fears May Haunt Turkish Market After 'Complacent' Year
(Bloomberg) -- Despite a rough first half, 2019 has been good to those trading Turkey. Now, money managers and strategists say next year may bring back concerns that the market has grown complacent about.
Aggressive rate cuts by the country's central bank and improved appetite for risk assets proved powerful tailwinds that buoyed all Turkish assets, especially equities, in the latter half of this year. Investors may face a rockier path in 2020.
Market prognosticators say the U.S. election could turn the tide for Turkey, which has been shielded from punitive American sanctions thanks to a cordial personal relationship between the presidents of the two countries. Also of concern are the signs of weakness in Turkey's nascent economic recovery, prompting speculation that policy makers will be forced to boost stimulus at the expense of the lira and a recent slowdown in prices.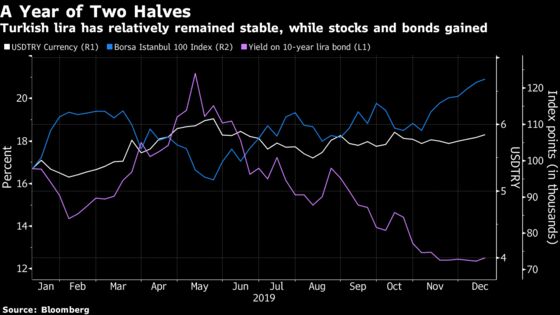 Credit Agricole SA's Guillaume Tresca says markets have been "too complacent." He sees an increasing risk that Turkish assets will give up gains in 2020, after high real rates of return made its currency an attractive carry trade this year.
The equity benchmark Borsa Istanbul 100 Index has jumped 21% this year, while the the lira has depreciated 11% against the dollar and the yield on 10-year lira bonds is down 385 basis points.
"Given all the pending risks, carry is not enough to take a long-term position in Turkish assets," said Tresca, a senior EM strategist. "The second half of 2020 could prove to be more challenging as we expect the government's credit growth strategy to exacerbate macro imbalances and the CBRT to be slow to react," he said, referring to Turkey's central bank.
Here are the issues that analysts and asset managers say will be critical for Turkish assets next year:
U.S. Elections and Potential Sanctions:
A victory by the U.S. Democrats could change the White House's cordial approach toward Turkey, says Viktor Szabo, an investment director at Aberdeen Asset Management in London. He helps oversee $14 billion in emerging-market debt.
Since Turkey's purchase of a Russian missile-defense system, U.S. senators have sought to advance sanctions on the country. Such a proposal would penalize Turkey's leaders, energy industry and financial system involved in military action in Syrian territory controlled by the Kurds. Ahead of the U.S. election, calls for strong measures may increase, fueling volatility and keeping investors at bay.
"Pressure on President Trump to implement CAATSA sanctions on Turkey may generate sporadic headline risk for Turkish assets," said Phoenix Kalen, a strategist at Societe Generale SA in London. "U.S. presidential candidates' positioning on foreign policy vis-a-vis Turkey may invite investor scrutiny on Turkish assets, although ultimately, we do not believe that Turkey will face serious sanctions next year."
The Turkish central bank "overcutting rates is the main risk" that the country's assets face in 2020, according to Szabo.
After the central bank's new governor cut rates by 1,200 basis points, investors will focus on the speed at which rates will be brought down to the single digits promised by President Recep Tayyip Erdogan.
"Governor Uysal will have to slow down the rapid pace of monetary policy easing," said Piotr Matys, an EM strategist at Rabobank. "Eventually he will find himself in a hard spot between the market perhaps pushing against further rates cuts and the influential President Erdogan who expects single-digit interest rates."
While data exceeded estimates earlier this year, the consumer price index again rose by double digits annually last month.
The improvement has now come to a "stand still," said Nigel Rendell, a senior analyst at Medley Global Advisors LLC in London. "As the domestic economy picks up in 2020, fueled by renewed bank credit, any inflation concerns could lead to a sell-off in the bond and currency markets, particularly if this takes place against a background of further declines in the CBRT's repo rate."
With the authorities fueling credit growth to try and revive domestic demand, there's a risk it could reignite the start of another boom-bust economic cycle, Rendell said. His firm is "extremely skeptical" that sustainable economic recovery can be attained, and "any push for rapid growth risks negative consequences for the current account position and the inflation data will be manifest through a sell-off in the lira," he said.
"Geopolitics is still a wild card for next year," according to SocGen's Kalen.
Turkey's ground operation in Syria triggered an initial selloff in assets in October, as well as threats of sanctions from both the U.S. and Europe. Adding to worries of another flare-up is a recent pact with Libya. Turkey signed a maritime agreement with the country, and offered to send troops to the country if there was demand, a move that has drawn criticism from the European Union.
"If Erdogan will decide to send substantial troops to Libya that would present major additional risk for Turkey," said Anastasia Levashova, a fund manager at Blackfriars Asset Management.
A deterioration in the geopolitical situation, plus the looming U.S. sanctions, are "the main pending threats that could fuel risk aversion," Tresca said. "The markets have been too complacent."
SocGen's Kalen also recommends keeping an eye on the formation of new parties by former Prime Minister Ahmet Davutoglu and Deputy Prime Minister Ali Babacan, particularly for whether they can successfully draw voters away from the AK Party. "However, with no near-term elections, this development may have limited market impact in 2020," she said.
Earlier in December, Davutoglu launched his "Future Party" in Ankara, while former economy czar Babacan is in the process of building the foundation of a new party he plans to lead. Erdogan last week accused Davutoglu and Babacan of defrauding a state-owned bank. The former premier, who was handpicked for his cabinet role by Erdogan himself, denied the allegations.
"Tensions in politics may increase if Babacan and Davutoglu become far more vocal in criticizing the AK Party and trying to lure voters. Erdogan may try to front run them by calling snap elections, although it would be probably the most risky decision of his political career," said Piotr Matys, an EM strategist at Rabobank.
"The government is intent on reviving growth, which will require fiscal policy stimulus due to banking sector weakness (as a result of poor construction loan quality)," said Per Hammarlund, chief emerging-markets strategist at SEB AB in Stockholm.
While Turkey had a two-month budget surplus in July and August after the CBRT transferred some of its so-called cash reserve funds to the Treasury, it posted a deficit for the 11 months through November.
"Excluding the early transfer from the central bank, the budget gap would have exceeded 4% of the GDP in 2019," said Mehmet Gerz, chief investment officer at Ata Portfoy in Istanbul. "Given the objective to reduce inflation and interest rates, government spending in 2020 should be much more limited."
If there is another short-term expansionary measure, such as the Credit Guarantee Fund, investors may lose faith in disinflation and there may be a sell-off, particularly in interest rates, according to Gerz.