No Murder Charges in Taylor's Death; Officers Shot: Protest Wrap
(Bloomberg) -- A Kentucky grand jury chose not to file murder charges Wednesday against any of the police officers involved in the fatal shooting of Breonna Taylor during a drug raid on her home in Louisville, Kentucky. A single officer was charged with wanton endangerment for firing into neighboring apartments.
The grand jury's decision outraged protesters, who had called for murder charges and made Taylor the center of the #SayHerName campaign highlighting police brutality against women. Demonstrators in several U.S. cities began taking to the streets after the announcement.
The Louisville Metro Police Department confirmed Wednesday night that two officers were shot shortly before a 9 p.m. curfew took effect, after they were called to an area downtown where a crowd had assembled. Police Chief Robert Schroeder said one of the officers was alert and stable while the other was undergoing surgery yet stable. He added that there is one suspect in custody.
President Trump said in a Twitter post that he was "praying" for the two officers who were shot. He said in the post that he had spoken with Kentucky Governor Andy Beshear, "and we are prepared to work together, immediately upon request." Trump later tweeted, all caps, "LAW & ORDER!"
Democratic nominee Joe Biden said violence "is never and can never be the answer," adding he was praying for the officers shot and their families. Beshear encouraged protesters to go home tonight, saying there will be more chances to be heard safely.
Ben Crump, a lawyer for Taylor's family, called the outcome of the investigation into her death "outrageous and offensive."
The grand jury told a state judge that it had charged Brett Hankison, one of three officers involved in the incident that left the 26-year-old Black woman dead in March. The other two officers weren't charged. No drugs were found in Taylor's apartment, and the target of the investigation, an ex-boyfriend, didn't live with her.
Kentucky Attorney General Daniel Cameron, a Republican, said the two uncharged officers were justified in their use of force and that it was inconclusive whether Hankison fired shots that struck Taylor. Cameron rejected reports that the officers were serving a no-knock warrant, saying a witness supported the officers' claims that they knocked and announced themselves.
At a later news conference, Beshear, a Democrat, called on the attorney general to post online "all the information, evidence and facts that he can release without impacting" the indictment. "Those that are currently feeling frustration, feeling hurt, they deserve to know more," he said.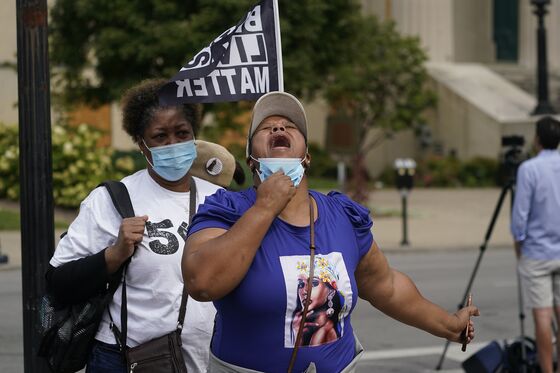 Anticipating civil unrest, Louisville Mayor Greg Fischer announced a curfew for the next three days. The city will have resources from the National Guard, the FBI and other federal agencies to help deal with any unrest.
In neighboring Illinois, Governor J.B. Pritzker called the grand jury's charge of the single officer a "gross miscarriage of justice." Pritkzer joined Chicago Mayor Lori Lightfoot, ReverendJesse Jackson and other local leaders at a news conference to urge demonstrators to avoid violence. "We want people to express themselves but do it peacefully," said Lightfoot, who planned to hold a citywide moment of silence in Taylor's memory Wednesday evening.
A Pritzker spokesperson said the governor had put Illinois's National Guard "in a state of readiness to ensure they are available if municipalities request their assistance."
The issue of protests and the police response to them continues to help shape the U.S. presidential campaign. Trump has touted himself as the law-and-order candidate, and his attorney general declared on Monday that New York City, Seattle and Portland, Oregon, have become anarchies that aren't performing basic governmental functions to keep people safe.
The cities' mayors, all Democrats, dismissed the announcement as a campaign stunt and said threats to restrict federal money on this basis were unconstitutional. "The President is playing cheap political games with congressionally directed funds," New York's Bill de Blasio wrote in a joint statement with Portland's Ted Wheeler and Seattle's Jenny Durkan.
In Florida, the nation's biggest swing state, Republican Governor Ron DeSantis proposed controversial legislation that targets participants in "violent or disorderly" protests. The proposals, meant to rally law-and-order voters ahead of the presidential election, would make disorderly assemblies a third-degree felony.
Organizers could be held accountable for demonstrations that turn violent. Yet drivers would be off the hook if they hurt or kill a protester with their vehicles while fleeing from what the legislative outline described as a "mob."
The issue will come up in the first presidential debate on September 30. One of the six topics picked by debate moderator Chris Wallace of Fox News is "Race and Violence in our Cities." The framing of that topic has been criticized by some as hewing too closely to Trump and conservative media's framing of the issue.
For NBA Players, Taylor Grand Jury Decision 'Not Enough': AP
Mars Drops 'Uncle Ben's' Branding, Changing to 'Ben's Original'