Odebrecht Bonds Sink as Bolsonaro's Rise Is a Headwind
(Bloomberg) -- Odebrecht Engenharia e Construcao SA bondholders are growing more pessimistic about the outlook for the construction conglomerate at the center of Brazil's epic graft scandal.
The firm's $1.4 billion of dollar-denominated bonds due in 2025 and 2042 have each lost more than 10 cents over the past month, leaving them at a five-month low near 25 cents on the dollar. Investors are growing concerned the builder is running out of money to pay them back amid a dearth of new projects and a swiftly deteriorating cash supply.
The most recent cause for worry is the rise of Brazilian presidential candidate Jair Bolsonaro, who looks poised to win a runoff vote later this month. Analysts have speculated that the company's historic ties to a left-wing party that opposes Bolsonaro and the massive corruption probe that roiled the country's political and financial circles in recent years mean the next president will be less likely to throw business its way.
"Some investors might think that under a Jair Bolsonaro administration it will be even more difficult for them to win public contracts," said Rafael Elias, the head of Latin America credit research at Exotix. In May, when bonds were trading around the current levels, Elias published a report saying the price suggested a restructuring was close.
Odebrecht declined to comment on its financial condition or the performance of its bonds.
Odebrecht hasn't been able to regain its former glory -- it had an investment-grade rating as recently as 2016 -- since emerging at the center of a massive kickback scheme revealed in an investigation called Carwash. Since the probe began more than four years ago, it's since expanded to elsewhere in Latin America and the company has lost contracts in Peru and Colombia as governments uncovered corruption in infrastructure projects and banned the builder from future work.
Fitch Ratings forecasts Odebrecht's construction business will continue to burn cash at a rate of 252 million reais ($68 million) this year and 57 million reais next year. In 2017, the free cash flow was negative 1.7 billion reais. The firm rates the company at CC, reflecting its "strong vulnerability to stress and weak liquidity that is not compatible with future principal and coupon payments."
Amid the operational issues, there is also mounting concern about the delay on the sale of petrochemicals producer Braskem SA, in which Odebrecht holds a 38.3 percent stake. The deal, which has been in discussion for months, was expected to provide cash before the end of the year, easing the way for coming debt payments, but is still pending. Odebrecht owes around $11 million in interest on Oct. 25, which may be adding volatility to the notes.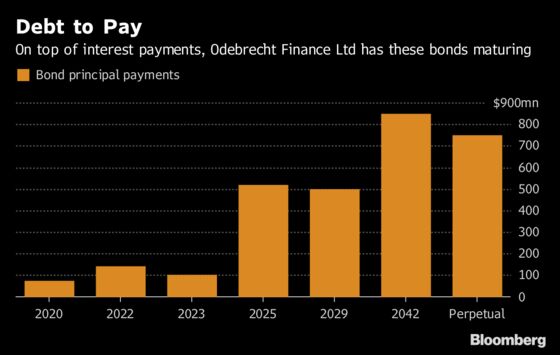 Shrinking liquidity and lack of new projects caused the company to miss a payment of 500 million reais of local bonds maturing in April. The firm paid investors a month later, after it obtained a 2.6 billion real credit line extension from Banco Bradesco SA and Itau Unibanco Holding SA, Latin America's two largest banks by market value. The credit was given in return for seniority in payments and the use of Braskem shares as collateral.
Odebrecht Finance Ltd., the offshore unit that issued the bonds, has over $150 million due in interest payments next year and bonds maturing starting in 2020.
"I am not worried about the next coupon payment and I believe that they will be able to add some projects to their backlog in the next 12 months, which should take some pressure off the bonds," Elias said. "But in the medium and long-term, I think the survival of the company remains in question."