Oddest Rally of Week: Argentine Bonds Surge as Leftist Sworn In
(Bloomberg) -- It seemed like this week had the potential to break Argentine investors. A leftist president who won a resounding victory at the polls was being sworn in after already making clear he intends to restructure the government's debt. Anticipation was high as traders tuned in to hear from his cabinet and gauge just how combative his inauguration speech would be.
In the end, newly installed President Alberto Fernandez hardly said anything noteworthy for investors at all, and his appointment of the academic Martin Guzman as his economy minister was seen as a reasonable, if not great, development. Anxious bond investors really didn't seem to get much information to go on.
And yet, curiously, Argentina's dollar-denominated bonds soared anyway, returning 8.1% in the first four days this week, almost 10 times the average for developing-nation notes, according to data compiled by JPMorgan Chase & Co. Other securities from the country also rallied, with bonds from the province of Buenos Aires due in 2021 jumping 6.2% even as its new governor told investors that the province didn't have enough money to pay debt and salaries over the next month.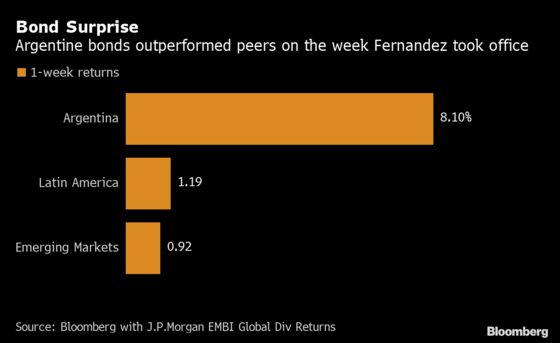 As best as can be deciphered, traders seemed to take solace in Fernandez's vague assurances that he wants to pay bondholders, but needs to prioritize shoring up the economy for now. They also liked Guzman's pledge to start negotiations with creditors soon.
Siobhan Morden, the head of Latin America fixed-income strategy at Amherst Pierpont Securities, was among analysts a bit mystified by the move. She theorizes that the market took off mostly because Fernandez didn't come off as someone preparing for battle. With prices on Argentine assets already so beaten down -- sovereign notes trade below 50 cents on the dollar -- investors see room for profits on a bet the restructuring really could be as friendly as the government suggests.
"Investors want to be hopeful," Morden said in an interview. "At these levels, they just want a capital gain, especially after the losses they suffered, and especially as they go into a new balance sheet in a new year."
Why Argentina Shuddered at Prospect of Change at Top: QuickTake
The federal government has a mountain of payments coming due before year-end, which will be a serious test on what strategy officials plan to carry out to avoid a hard default and try to quickly renegotiate obligations. But investors also have the sense that the incoming government, which took office Tuesday, may not have spent a lot of time plotting a debt strategy in the lead-up to the inauguration.
To be sure, the gains in Argentine bonds were from already distressed levels, and anyone who has held the notes since the beginning of the year has suffered losses exceeding 30%. Bonds due in 2021 trading at 49 cents on the dollar still imply a pretty painful restructuring ahead for investors.
Reinhart Warns Argentina May Repeat 15-Year Bond Holdout Saga
Walter Stoeppelwerth, the chief investment officer at Portfolio Personal Inversiones in Buenos Aires, said that after weeks of only grim news for investors in Argentina, traders were predisposed to latch on to anything that could be construed as a positive.
The appointment of Guzman, who prior to being named to the job had said Argentina doesn't need to reduce the principal on its bonds, was encouraging for the optimists, according to Stoeppelwerth. Guzman, however, made clear in his first press conference that his previous academic views don't necessarily equate to his current plans as minister.
"There's been a buy rush to the short-order bonds maturing in 2021 and 2023, because their net present value is much more dependent on principal," Stoepplewerth said. "The market thinks that Fernandez is a reasonable guy."