October Slump May Herald Quiet Year-End in Europe's Bond Market
(Bloomberg) -- Europe's primary market may offer slim pickings through the rest of 2018 following the worst October for sales in four years.
October issuance from borrowers including Volkswagen Financial Services AG and Diageo Plc slumped 13 percent to 122.5 billion euros ($139 billion), Bloomberg league table data show, amid risks including Italy's budget dispute, Brexit, a U.S.-China trade spat and a slowdown in European Central Bank stimulus measures. Sales may also be quiet through year-end as activity typically winds down in the run-up to Christmas.
"I would guess that we're close to being done in terms of any material or significant business for 2018," said Suki Mann, founder of CreditMarketDaily.com. "Right now, we're choosing to be very bearish."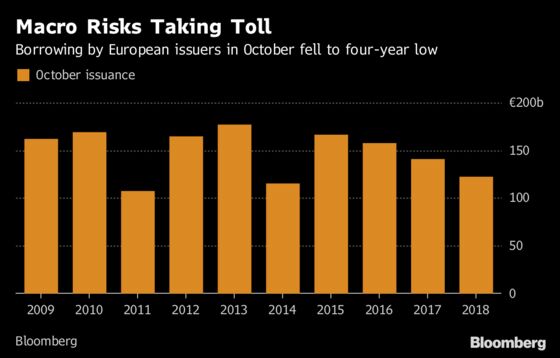 The unsteady backdrop contributed to five investment-grade issuers pulling out of sales last month -- including Renault SA's finance arm and ProCredit Holding AG -- as the primary market turned following a third-quarter sales increase. October's slowdown and a first-half decline also leaves 2018 volume 5.7 percent behind last year's pace.
See: Small Bond Sales Falter in Europe as Yield Hunger Abates
Issuers doing deals are having to dangle bigger concessions to get sales away. Online streaming service Netflix Inc. had to offer yields at the high end of price expectations last week when it sold 1.1 billion euros of notes in the high-yield market.
"This is not the environment in which to bring a brand new, slightly more edgy, low-single B high-yield issuer," said William Porter, head of European credit strategy at Credit Suisse Group AG. "You could get it done but you're not going to like the price."
In investment grade, French lender My Money Money Bank paid 21 basis points above midswaps on a seven-year covered bond, after an unsuccessful attempt to do a deal at 15 basis points in September. Pricing similarly failed to tighten last month on deals from lower-risk borrowers including Berlin Hyp AG and European Bank for Reconstruction & Development.
Corporate borrowing costs are also creeping up from historic lows as investors start to position for a halt to fresh ECB bond buying at year-end. That could further deter bond sales until the new year, which typically sees an issuance rush.
"I can see borrowers coming back in if they need to," said CreditMarketDaily.com's Mann. "If the confidence does come back and the markets are looking sprightly, then January's always a good month."