NYSE Sees Appetite for Chinese Listings Once Rules Are Agreed
(Bloomberg) -- The New York Stock Exchange sees appetite for Chinese company listings in the U.S. once the two nations' governments resolve a stalemate over regulatory scrutiny.
The bourse needs to strike a balance between investor protection and access to opportunity to fast-growing companies, NYSE President Stacey Cunningham said at the Bloomberg New Economy Forum in Singapore Wednesday.
"There's still appetite for Chinese companies to list in the U.S. There's still appetite to invest in those companies," Cunningham told Bloomberg TV. "The question is, can we get through some of the particulars around those disclosures so that those opportunities can be met by both sides."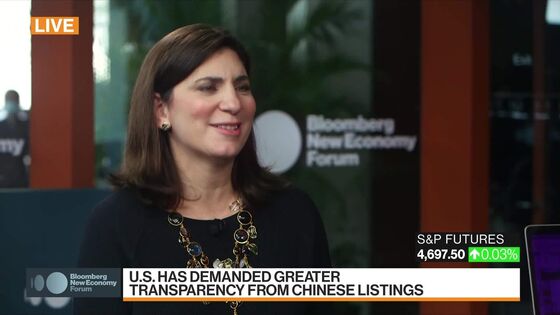 Chinese listings in the U.S. are in a logjam: China forbids overseas regulators from looking into the books of its companies, while American lawmakers proposed to delist Chinese companies that refuse to have their accounts audited under U.S. regulations.
Former President Donald Trump last year ordered investors to exit Chinese businesses that posed threats to U.S. national security. The order wiped $30 billion in market value off three Chinese telecom firms following the order. Earlier this year, the NYSE said it will proceed with delisting military-tied Chinese firms before the Treasury confirmation. The U.S. Securities and Exchange Commission demanded greater transparency from China firms both listed and seeking an initial public offering. 
So far this year, companies have raised $119 billion via initial public offerings on the New York Stock Exchange's venues, topping Hong Kong's $37 billion but lagging behind Nasdaq Inc.'s $187 billion. Yet, with China requiring a cybersecurity review for data-heavy companies before listing abroad, some firms have turned to Hong Kong.
"You're seeing some companies deciding to push off their timelines based on investor conversations and investor demand," said Cunningham. "So, while we are seeing a little bit of a slowdown, we're continuing to see a very strong pipeline into the next year."
The New Economy Forum is being organized by Bloomberg Media Group, a division of Bloomberg LP, the parent company of Bloomberg News.