NYC Schools Await Vaccine Rollout for Broad Return to Classrooms
(Bloomberg) -- New York City schools will operate with the vast majority of students getting at-home instruction, Mayor Bill de Blasio said Monday. They won't have another opportunity to switch to in-person instruction until mass distribution of a Covid-19 vaccine makes conditions safe enough for hundreds of thousands to return to classrooms.
"When we get to that point and the vaccine has been distributed enough that we really think the situation is much safer, that is also the time when we can bring a lot more kids back and do another opt-in," de Blasio said during a news briefing.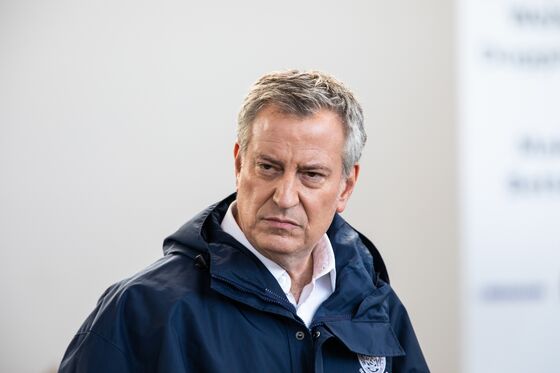 On Sunday, de Blasio reversed a system-wide schools shutdown after the citywide test infection rate for the virus hit 3%. That milestone had been established in August as a public-health measure to ensure student and teacher confidence in schools' ability to ward off the virus.
By the time the policy went into effect, though, schools had demonstrated they could safely accommodate students in small classes with mask-wearing and social-distancing rules. The infection rate among students and staff has remained well below 1% -- 453 cases out of almost 160,000 tests, the mayor said.
"It's been extraordinary how safe our schools have been; that's because of all those layers upon layers of health and safety measures," de Blasio said. "This approach now -- with more testing, with mandatory consent forms -- we believe we can sustain and take it through to the point when we have a vaccine."
The mayor's announcement drew criticism from the Alliance for Quality Education because it came after the city limited parents to a one-time, two-week period in which to decide whether to enroll their children in a program blending at-home and in-person instruction. They had to choose just as infection rates spiked earlier this month.
Under those circumstances, parents couldn't make an informed decision, said Zakiyah Ansari, the group's policy director. The mayor and the city Department of Education should reopen the opt-in period based on the new policies, Ansari said.
"Parents didn't know about the possibility of being in school five days a week, so they didn't opt in," Ansari said. "All they knew was that the city infection rate was rising and they had no clear, consistent communication from the schools and the mayor about what universal testing would mean for their child.
"Now, all of a sudden we're going to reopen. A parent has a right to ask, 'Why should I trust that this is going to work this time?'"
Citywide, the incidence of virus infection has continued to increase. The seven-day average infection rate has risen to 4.03%, and the average daily reported cases has been 1,620 during that span. As of Saturday, hospital admissions of suspected Covid-19 cases had fallen to 96 from 131 the previous day, which the mayor said is well within the ability of public and private hospitals to handle.
The number of admissions and the schools' consistent safety record were two reasons the city isn't experiencing a public-health crisis that would force a general shutdown of schools and businesses, the mayor said.
New York Governor Andrew Cuomo also counted the low school-infection rate as cause for optimism.
"Opening the schools I thought was the right idea, and your testing in the schools is great so we know that they're safe," Cuomo told de Blasio during a video call to discuss the virus. "Children can continue to get educated and their parents can go about as normal a life as you can have."
Sunday's policy reversal will allow about 109,000 pre-school, elementary and special-education students to return to school buildings by Dec. 10. That leaves the vast majority of the system's 1.1 million students to continue learning at home. More than 200,000 of those in grades sixth through 12th who had chosen the blended program must stay home because the city lacks capacity to test them all once a week under the new safety protocols, de Blasio said.
Many schools will be able to offer students instruction five days a week, an increase over the two or three days they now get, because so many families have chosen to keep their students at home, the mayor said.
"Even in this school year," de Blasio said, "we have the real possibility of bringing back a large number of kids once the vaccine gets pretty widely distributed."