NYC Schools Reopen as Virus and Uncertainty Linger in Air
(Bloomberg) -- New York City reopened 850 public schools Monday despite rising coronavirus rates across the city that forced the country's largest school system to close just weeks earlier.
Mayor Bill de Blasio is welcoming back 190,000 students -- pre-school and elementary pupils on Monday and those with special needs on Dec. 10. The return comes after widespread anger erupted over the decision last month to close schools after hitting a 3% citywide infection rate. Critics said adhering to a low threshold for shutting down school buildings while gyms and indoor dining remained open ignored new data showing schools were among the lowest-risk areas.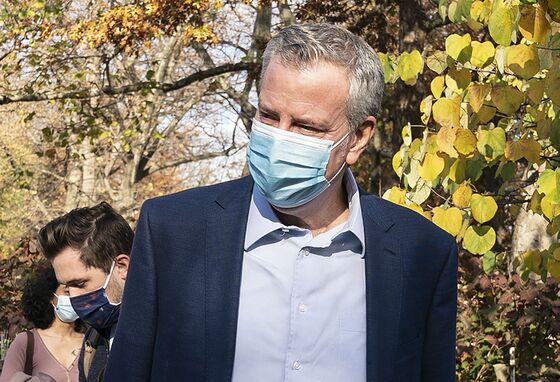 On Monday morning, the mayor visited a school in the Bronx, and later said young students told him they were happy to return to class. "I watched little kids with masks on, getting hand sanitizer, getting the temperature checked," he said during a news briefing. "If little kids can do all these things, we can too."
About two-thirds of New York's 1.1 million public-school students have chosen remote learning rather than risk the virus or the upheaval of on-again, off-again shutdowns. While classroom instruction is especially helpful for special-needs students and the youngest learners, anxiety remains. It's unclear when or if middle- and high-school students will be able to return to in-person learning.
Even with the reopening, 44 schools are closed temporarily on Staten Island, identified by the state as a zone of heightened Covid-19 infection. Those schools will reopen on Wednesday, de Blasio said. More than 300 schools have been shut at one time or another due to cases of the virus found in them, according to United Federation of Teachers President Michael Mulgrew.
Targeted surveillance rules now require weekly testing of 20% of each school's occupants. Previously, testing was done monthly.
"What we have done here in New York City with our multiple layered safety plan has allowed us to become the only large city school system to open," Mulgrew said in an interview. "We can have confidence because any time there's a hint of Covid in any school, these protective rules kick in, providing mandated targeted surveillance."
While an individual school may close if two or more infections are detected, it would take a less likely sustained citywide positive-test rate of 9% to close down the entire system, Mulgrew said. The city has been contending with a second wave of viral outbreak that has pushed the citywide rate above 5% for the first time since May.
Parents must sign a consent form for random testing to have their children get in-school instruction. But they've complained that schools officials and the mayor haven't adequately explained how the testing will be done. With the virus surging, other parents chose to keep their kids in remote instruction.
"We knew the schools were going to wind up shutting down and opening up, and this now-or-never choice came at a very inappropriate time," said Tazin Azad, a Brooklyn mother of three. "It's unfortunate that the mayor didn't heed our warning that spikes like this would happen."
In September, de Blasio twice delayed the opening of in-person classes while he and Mulgrew wrangled over staffing and public-health issues. De Blasio had said the November decision to shut down in-class learning was forced upon him by public health standards set in August, before schools had demonstrated themselves to be among the city's safest indoor spaces.
In yet another reversal, more than 100,000 middle and high school students won't be coming back to class. They've been told to stay home because the city lacks capacity to include them in the new weekly testing regimen.
The most recent change will ensure stability, the mayor says.
"The model we're now working with is a sustainable model that will take us all the way to when the vaccine is here and we've been able to widely distribute it," de Blasio said during a Dec. 2 news briefing. No matter how much the virus spreads through the community, a school won't be shut down unless it's located in a neighborhood where infection rates are spiking out of control, or ramped up testing discloses contagion within a building.
"Some schools will have to do some kind of mix where some kids, the most needy kids, will get five days a week," de Blasio said, without giving details on how the city might find enough staff and space to accomplish that. "Other kids will get as many days as possible."
One parent's advocacy group praised the mayor for showing the flexibility to change direction and open the schools anew, focusing on the system's youngest and most vulnerable students. It especially made sense at a time when the state is still permitting restaurants and bars to remain open, said Jasmine Gripper, executive director of the Alliance for Quality Education, a nonprofit group.
But Gripper said the city has failed parents by not allowing them regular opportunities to change their minds about whether to send their kids into school. Many parents are advocating for quarterly deadlines to switch back to in-school instruction. There are also tens of thousands of kids who don't have access to laptops and tablets or the Internet service to use them for remote instruction, she said.
Lack of communication may create problems if de Blasio intends to rely on vaccinations to restore the schools to their pre-pandemic status. Parents don't know whether such vaccinations will be required, and they've been given no information from the city on their effectiveness and safety, she said.
"Mayor de Blasio and school officials are being naive if they think they don't have a huge trust issue with parents over these issues," Gripper said. "They have tackled one part of the problem -- making school buildings safe -- but they don't want you to see the rest of the problems."