NYC Schools Headed Toward Shutdown, Teachers Union Head Says
(Bloomberg) -- Even though New York City schools have been a haven from the coronavirus with infection rates well below 1%, a surge in cases in the city threatens to transform them into centers of transmission, the head of the teachers' union warned.
Michael Mulgrew, president of the United Federation of Teachers, said Mayor Bill de Blasio is right to insist on a shutdown if there's a citywide 3% weekly rate of positive Covid-19 infection, up from 2.6% now.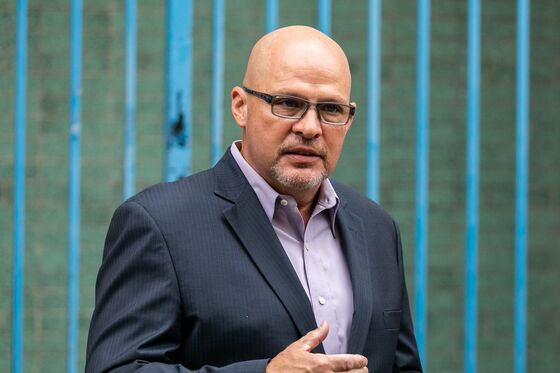 "The virus will infiltrate the schools and then, instead of an outbreak in one or two neighborhoods, the schools will be the connection point to all the city's neighborhoods," Mulgrew said in an interview.
The largest U.S. system began a mix of in-class and remote instruction in September. Daily disinfection, all-day mask-wearing and social-distancing rules make schools as safe as hospitals, Mulgrew said.
De Blasio said Thursday that officials are prepared to shut down the schools the day after the rate hits 3%. They would reopen as soon as epidemiologists felt confident the city could hold the rate below the threshold, he said. Mulgrew said a shutdown appears increasingly likely.
"With the numbers of cases going up the way they have the last seven days, I feel it's going up to 3%," he said.
Public health and school officials settled on the trigger rate for a shutdown last summer, de Blasio said Thursday. The city reported a 2.60% positive rate as of Tuesday, an increase from 1.88% on Nov. 1. Its seven-day average of new cases has jumped to 870 from 605 in that span. The city is especially vulnerable to the highly contagious virus due to its population density and reliance on mass transit.
The heightened infection rate is happening as parents face a Sunday deadline to decide whether to enroll their children in the city's hybrid program or keep them at home full-time for instruction online.
Even though New York's infection rates are lower than in most areas of the U.S., the trend is going up. On Wednesday, Governor Andrew Cuomo ordered all bars and restaurants with state liquor licenses to close at 10 p.m. along with gyms. Indoor gatherings must be limited to 10 people. The rules, which begin Friday, came as cases jumped to the highest level since April.
New York state saw nearly 10,000 new coronavirus cases over two days, as Cuomo urged people to "buckle down."
Of the more than 162,600 tests conducted across the state Wednesday, almost 3% were positive, according to state data.