NYC Schools Chief Resigns, Replaced by First Black Woman
(Bloomberg) -- New York City Schools Chancellor Richard Carranza said he will resign in March, clearing the way for the elevation of the system's first Black female chief.
Carranza, 54, has run the largest system in America for the past three years. He has battled Mayor Bill de Blasio over how to tackle a history of segregation in New York City education and accusations of systemic favoritism in the admissions system for gifted-and-talented programs.
"It is incredibly hard to say goodbye," Carranza said at a Friday briefing. "I am a New Yorker who has lost 11 family and close childhood friends to this pandemic, and a New Yorker who, quite frankly, needs to take time to grieve."
Bronx Executive Superintendent Meisha Porter, 47, will replace Carranza on March 15. She will become the first Black woman to oversee the system's 1 million students and 1,800 schools, de Blasio said at a briefing Friday.
"She will make history," de Blasio said. "This is a moment of national importance, that an African-American woman will take the helm of the nation's greatest public school system."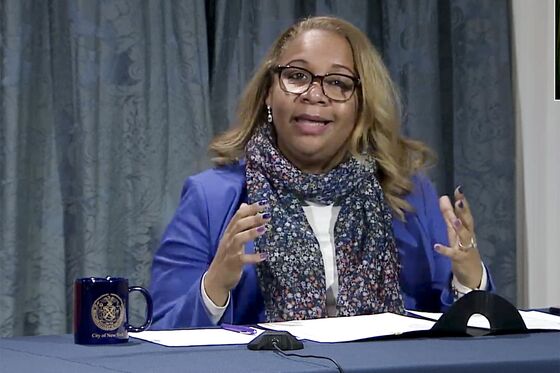 Porter was born in southeast Queens and was raised by a single mother who returned to school to finish her degree and become a teacher. She's spent more than two decades in public education. Before serving as executive superintendent, she worked as a principal, and then became superintendent of the borough. She currently oversees 361 schools in the Bronx and 235,000 students.
Now, she plans on leading the entire system toward recovery. Porter said she would open high schools for in-person learning as quickly as possible, bringing back the last tranche of students who are still in remote learning a year after the pandemic shut down schools.
"We have come so far since March," Porter said during the Friday briefing. "I promise we'll do everything to reopen schools."
School reopenings are seen as one of the biggest factors in getting workers back to offices and reviving the city's economy.
Middle schools reopened for in-person instruction this week. About 60,000 students are eligible to return two or three days a week in a hybrid schedule of at-home and in-school lessons. About 70% of middle-school students chose all-remote instruction earlier and will continue to learn at home.
De Blasio said he doesn't foresee giving families another opt-in window right now to change their minds about sending children back to the classroom. "We're not there yet," he said on a Friday appearance on WNYC. But the mayor said positive Covid-19 test rates at opened schools are less than 1% and that "it's time to bring back high school, we're definitely ready."
Some parent groups welcomed Porter but said they were worried that a change of leadership in the middle of a tumultuous school year might slow down an already fraught reopening process.
"Couldn't they wait until the school year is over?" said Grisel Cardona, a parent leader in the Bronx. "It is going to be challenging for her."
Porter pledged to focus on addressing the longstanding racial lines within the city's school system, an arena where de Blasio often clashed with her predecessor.
"The reality is, segregation exists, and I am not going to shy away from the importance of really looking at inequities around admissions processes," she said.
Teachers who have worked with Porter hailed her commitment to making the school system work for all students.
"It's an amazing thing for equity across the school system," said Luis Torres, principal of P.S. 55 Benjamin Franklin, an elementary school in the Bronx, who has known Porter for more than 15 years.
Torres said Porter helped spearhead efforts to get devices to children in the Bronx who lacked access to the Internet for virtual school, and supported his efforts to start broadcasting lessons on television for families without technology.
Carranza had been in the thick of conflict among teachers, parents and politicians as the city searched for a workable policy around segregation and racial equity in schools. He publicly clashed with de Blasio as the chancellor pushed to eliminate the gifted-and-talented test for 4-year-olds and suspend middle-school admissions screening.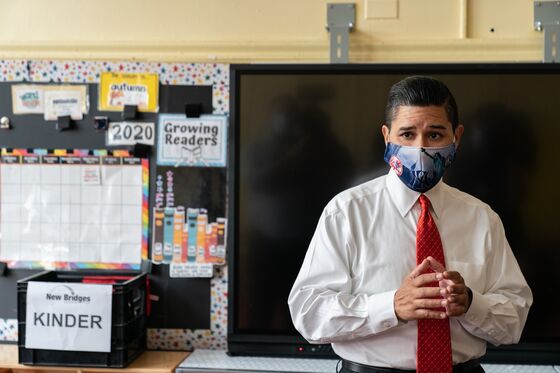 In a statement Friday, the city's largest teachers union highlighted the tension and called Carranza a "real partner."
"Too often, he had to fight behind the scenes to keep the needs of students, staff and their families ahead of politics," said United Federation of Teachers President Michael Mulgrew.
Others warned that Porter would inherit the same challenges Carranza faced.
"In spite of his original campaign promises, Mayor de Blasio has been a significant impediment to equity in New York City schools," Natasha Capers, who runs the NYC Coalition for Educational Justice, said in a statement.
Capers said the mayor "dragged his feet on culturally-responsive education, continues to insist on maintaining racially biased tests and programs that ensure continued segregation and inequities in our public schools."