N.Y. Front-Line Workers to Lose Place in Line If Skip Shot
(Bloomberg) -- New York Governor Andrew Cuomo warned hospitals and health-care workers on Thursday that if they don't take Covid-19 vaccines while it's offered exclusively to them in the early days of the state's inoculation drive, they will lose their priority status when the vaccine rolls out to the general public.
Cuomo said that's why he is pushing back on requests by New York City and other local officials who've asked the state to expand the group of people eligible for the vaccine in a bid to speed up vaccinations in the state. New York has administered only 430,000 of the 900,000 doses it has received, leaving more than half of the Covid shots unused on the day the state reported the most daily coronavirus cases since the start of the pandemic.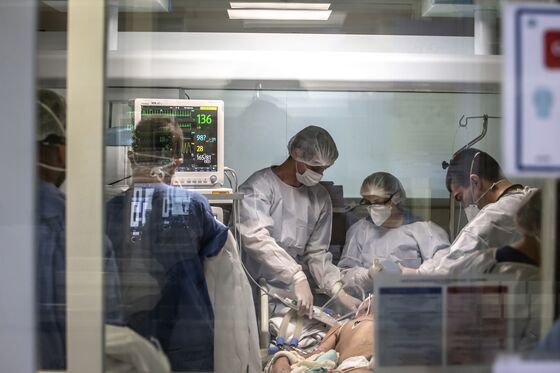 "Any health-care worker left behind when you open 1B, it's going to be very hard to catch up," Cuomo said on a phone call with reporters, referring to the second tranche of people eligible to receive the Covid-19 vaccine.
The initial batch is reserved for health-care workers, and Cuomo doubled down on his decision not to open up vaccines to other vulnerable cohorts until all people in the first group get it. The first phase, 1A, is limited to hospital workers, urgent care providers and nursing home residents and staff. Phase 1B includes firefighters, police officers and other first responders, as well as people over age 75.
"If they don't get it while they're still priorities, they go to the back of the line," Secretary to the Governor Melissa DeRosa said. "The question is, are you inadvertently punishing people who are in 1A, not because they don't want to get it but because of an incompetent or ineffective system of delivery."
Officials around the state have asked Cuomo for freedom to expand eligibility for who can receive the virus because they say the strict rules are unnecessarily delaying the vaccine rollout.
In New York City, health officials have thousands of shots available "without arms to give injections to," Mitchell Katz, chief executive officer of NYC Health and Hospitals, said in a separate Thursday briefing.
He said every eligible worker in the city's public hospital system, the largest in the U.S., who wants to be vaccinated has received a shot. That's left the city with thousands of vaccinations in storage.
The 11 hospitals have "almost no one left to vaccinate within its employee base," New York City Mayor Bill de Blasio said in his Thursday briefing. "We could be reaching folks this minute who are vulnerable. I'll speak to our law department further, because I think what's happening here makes no sense."
Around 30% of health-care workers in New York City have resisted getting vaccinated, either because they distrust the shot or believe they have become immune through prior infection, said Katz. "All of a sudden, we have appointments available."
Some surplus doses are being distributed to health workers outside the city's system, to private hospitals, dentists, home health aides and optometrists, Katz said. Even with that effort, thousands more doses remain unused and could be given to patients over 75 in public hospitals. Statistically, those people are most at risk of severe illness and death if infected, he said.
The struggle over authority to set policy on vaccinations mirrors previous local-and-state conflicts. Last spring, Cuomo clashed with de Blasio in asserting that only the governor had authority to close schools or keep them open.
The vaccination issue flared up this week after New York City tried to offer the shots to firefighters and other first responders. Police, firefighters and correction officers are included in the next tier of eligibility, so the state instructed the city to stand down.
"The city had a plan to vaccinate 10,000 police and fire personnel by Sunday and the state said you can't do that," de Blasio said. "I have a huge number of folks over 75 who are ready right now, correctional officers, firefighters, but the state wont allow it."
De Blasio got some support for his assertions from local officials, including Dutchess County Executive Marc Molinaro, a Republican who heads the state's County Executive Association. County leaders across the state are reporting surplus supplies that they don't know what to do with, Molinaro said.
He pointed to officials in upstate Chemung County who went ahead and inoculated emergency workers who aren't yet authorized to receive the shot.
"Making the vaccine immediately available to this larger, yet still, essential population, will allow for a faster and more efficient vaccination campaign," he wrote in a letter to Cuomo this week.
Ulster County Executive Pat Ryan said he's developed a vaccine surplus and would like to distribute doses to first responders, the elderly and the chronically ill. He said not every health worker is ready to schedule a shot.
"The logistics of getting everybody here and everybody through, at a certain point, you make a reasonable adjustment and increase the number of people eligible," he said. "All of us need to have some humility and make a change in plan when circumstances compel it."
Cuomo said the state is reaching worrying levels of hospital capacity. While hospitals have beds and equipment now, they are experiencing staff shortages. "That's reinforced the necessity to get health workers vaccinated," he said, making an analogy to the common announcement on airplanes about putting your own oxygen mask on first before helping others. "We need them to protect our health-care system."
New York has 2 million health-care workers but has received only 900,000 doses of the vaccine so far. He called on hospitals to alert the state if they have offered all their health-care workers vaccines so the state's health department could reallocate the shots to other health workers in need. He said there are more than 1 million health-care workers in New York who have not yet been offered the vaccine.
New York City has only given vaccines to roughly 14% of its health-care workforce, Cuomo said. "Even if you want to say the city says their refusal rate is 30%, that means the acceptance rate is 70%. But they've only done 14% -- that's the problem with New York City."
De Blasio said the state's response was misguided.
"Vaccinate intensely, quickly now and keep pushing for more supply," de Blasio said Thursday. "But don't have someone who's ready right now and willing told they can't."