NYC Mayor Rips Cuomo for Power Play in Lifting Group-Fitness Ban
(Bloomberg) -- New York City Mayor Bill de Blasio accused Governor Andrew Cuomo of making decisions around lifting the state's Covid-19 restrictions based on political reasons, rather than on underlying data. He said the governor rescinded a ban on group fitness this week without consulting the city or its health officials.
"Is this being done based on what the data and science is telling us, or is this being done for political reasons? Because it sure as hell looks like a lot of these decisions are being made by the governor for his political needs," de Blasio said in a Thursday virus briefing.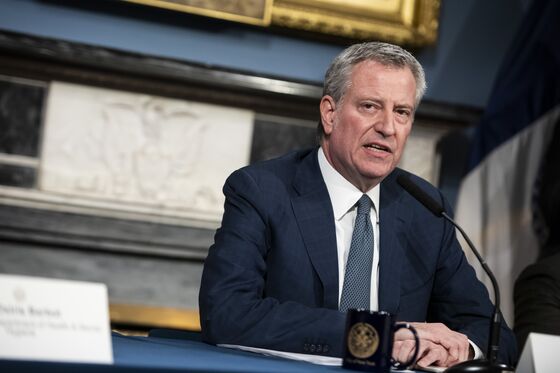 Cuomo on Wednesday lifted a ban on indoor fitness classes shortly after de Blasio and city health officials said they didn't think the city's virus cases had come down enough to resume the classes, which come with particular health risks. The tussle between the mayor and governor comes as Cuomo faces growing calls to resign over multiple scandals, including by de Blasio, a longtime Cuomo rival.
"It's troubling to me that our health care team has said clearly this is not what they would have done and the state just doesn't care," de Blasio said. "This is not something the state should have done without us."
Studio owners have held protests and sued the city and the state in hopes of overturning the ban, a decision they said was unfair since gyms were allowed to reopen in September at limited capacity.
Dave Chokshi, the city's health commissioner, said health officials weren't consulted on the state's decision to rescind the ban.
"This is an area we've expressed concerns about the risk of spread of Covid particularly because it's an activity that combines being indoors, in groups and not being able to easily and consistently wear masks that don't get wet," he said Thursday.
Separately, de Blasio got the Johnson & Johnson vaccine shot on Thursday during his daily press briefing, which is streamed live. "I have total faith in the Johnson & Johnson vaccine and that's why it's in my arm," he said.