NYC Man Held Without Bail Over Attack on Elderly Asian Woman
(Bloomberg) -- A homeless New York man charged with beating a 65-year-old Asian woman outside a Midtown Manhattan luxury apartment building was ordered held without bail after a prosecutor said he'd been free on parole for killing his mother in front of his five-year-old sister almost 20 years ago.
Brandon Elliot, 38, was charged with two counts of felony assault as a hate crime, said Emily Tuttle, a spokeswoman for Manhattan District Attorney Cyrus Vance, Jr. He also faces other charges.
At Elliot's arraignment Wednesday evening, Assistant Manhattan District Attorney Courtney Razner said Elliot approached the 65-year-old woman of Filipino descent as she walked to church on Monday morning and shouted an expletive at her. He then said: "You don't belong here, you Asian!" according to Razner.
"He then kicked her in the chest, knocking her to the ground and proceeded to stomp on her head, multiple times," Razner said. "The victim was taken to the hospital, suffered a fracture to her pelvis and contusions to her head and her body. She was hospitalized for over a day."
Razner said Elliot had fatally stabbed his mother in front of his younger sister when he was 19. He was sentenced to 15 years to life and released from prison on parole in 2019, Razner said. The prosecution's case against Elliot is strong, she said, because police had matched a video of him walking by another building with that taken of the attack, she said.
"The defendant has every incentive to flee these charges, and there are no release conditions that are sufficient to ensure that he returns to court given the nature of this case," Razner said.
New York Criminal Court Judge Paul McDonnell agreed and ordered Elliot to be held in jail.
"We strongly urge the public to reserve judgment until all the facts are presented in court," said Alisha Bacchus and Jamie Niskanen-Singer, defense lawyers for the Legal Aid Society which represented Elliot in court Wednesday. "Mr. Elliot has a constitutional right to counsel and due process."
They said they're reviewing the case and will have additional comments later.
The attack on the woman occurred as the city's hate crimes task force is reporting an increase in racially charged violence against Asian New Yorkers. The increase during the pandemic is partly being blamed on U.S. political leaders who kept referring to the coronavirus as the "Chinese flu."
On Tuesday New York Mayor Bill de Blasio called the latest attack "disgusting" and vowed to bring the perpetrator to justice.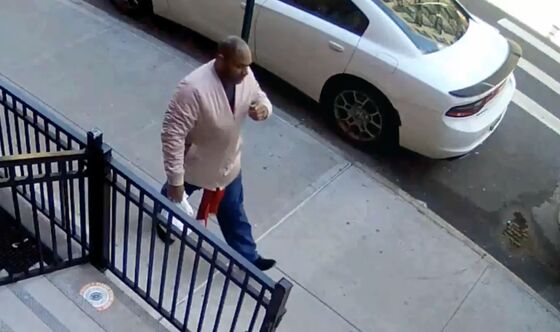 "I'm very frustrated by these attacks," de Blasio said during a press briefing Tuesday. "I know a huge effort is being expended to educate, to get people involved in the solution, to find the perpetrators, to bring them to justice."
A surveillance video, released by the police Tuesday, showed a man kick the woman outside an apartment building at 360 W. 43rd Street while the building's security guards looked on but didn't intervene. One guard then shut the door.
The Brodsky Organization, which manages the luxury Manhattan apartment building, said in a statement that staff who saw the attacks were suspended "pending an investigation in conjunction with their union."
"The Brodsky Organization condemns all forms of discrimination, racism, xenophobia and violence against the Asian American community," the organization said.
The rise in attacks have led to protests by Asian-American leaders and community activists in New York and globally, as they respond to an outbreak of violence that includes a March 16 shooting in the Atlanta metropolitan area where eight people died, including six women of Asian descent.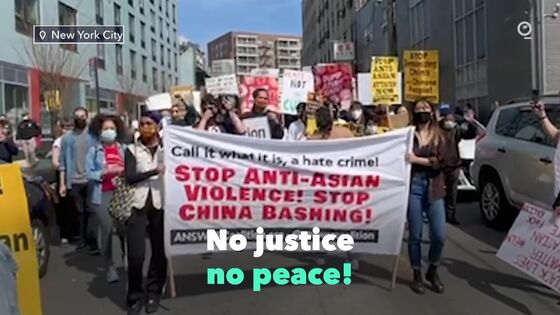 President Joe Biden on Tuesday announced plans to address the hate crimes against the Asian-American community, including increasing access to hate crime data and requiring new training for local police.
U.S. Attorney General Merrick Garland on Tuesday directed Justice Department employees to give priority to investigating and prosecuting hate crimes and incidents, noting "the disturbing trend in reports of violence against members of the Asian American and Pacific Islander community," according to a memo to department employees.
Garland, who became the nation's top law enforcement officer almost three weeks ago, ordered a review to be completed in a month to determine specific steps that can be taken to better combat hate crimes.
"We must recommit ourselves to this urgent task and ensure that the department makes the best and most effective use of its resources to combat hate," Garland wrote.
Stop AAPI Hate identified nearly 3,800 anti-Asian incidents since last March, 6.2% of which were targeted at people over 60 years old and an overwhelming 68% at women.
DeBlasio also criticized the bystanders who did nothing to stop the attack in Midtown Monday
"To see a security guard standing nearby and not intervening, it's absolutely unacceptable," the mayor said. "I don't care who you are. I don't care what you do, you've got to help your fellow New Yorker."