Cuomo Sees 'Controlled' Rise of Cases, Sets May 22 Beach Opening
(Bloomberg) -- New York expects a "controlled" increase in coronavirus cases as its regions restart, Governor Andrew Cuomo said, as he announced that beaches would open in concert with neighboring states by the Memorial Day weekend.
"You will see an increase," Cuomo said Friday at a press briefing. "But that increase has to be monitored and it has to be controlled."
Five of 10 New York state regions began the first phase of reopening today, while New York City, Long Island and three others that failed to meet requirements had lockdowns extended at least two more weeks. New York's beaches will open as part of a regional move that includes New Jersey, Delaware and Connecticut, and bathers must follow social-distancing guidelines, Cuomo said.
"I'm trying to work in conformity or accommodation with surrounding states," Cuomo said. "They were going to open beaches, and if New York did not open beaches, you would see an influx of people to the Jersey Shore, Connecticut, etcetera, that would put New Yorkers then in jeopardy there."
New York, Long Island and Western New York have met just four of the state's seven metrics, according to a regional monitoring dashboard. The Capital and Mid-Hudson regions have met five. The metrics, based on guidelines from the U.S. Centers for Disease Control and Prevention, include certain requirements for hospital-bed capacity, testing and tracing.
The Finger Lakes, Central New York, Mohawk Valley, Southern Tier and North Country regions have met all conditions, according to an executive order signed Thursday night.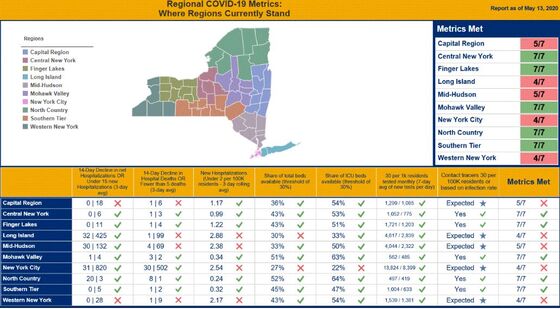 All beaches that open May 22 must mandate no more than 50% capacity, and prohibit group activities such as volleyball. Masks must be worn by all employees and visitors when social distancing isn't possible, according to a slide at the governor's press briefing. Playgrounds, amusement rides, arcades and concessions all will remain closed.
"Is there a risk that the locals won't enforce the rules? Yes," Cuomo said. "Or the beach will get overwhelmed and they can't enforce the rules? Yes, that is a risk, and we have eyes wide opened and if that happens, we will close the beach the next day."
Statewide, about 6,300 people were hospitalized for Covid-19 as of May 14, down from a high of more than 18,000 in April. Cases and deaths have both increased by less than 1% for several days. New York has had the worst outbreak, but is seeing improvements as other states are worsening, Cuomo said.