NYC Got Billions in Federal Aid Dollars. Now One Man Wants To Know Where It Went.
(Bloomberg) -- New York City is getting more than $15 billion in federal pandemic relief aid to keep schools, hospitals and other essential parts of the city running. The problem is that there's no real accounting of where all that money went, says Democratic nominee for Comptroller Brad Lander. 
Lander, the city councilman favored to become New York's next financial watchdog, said that billions of federal stimulus funds are being spent in a murky, haphazard way. 
"The money that has been spent has been a random wish-list as opposed to a strategic approach," said Lander during an interview Tuesday with Bloomberg News.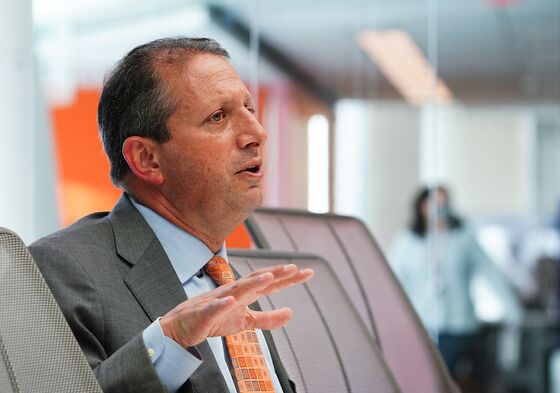 If elected in November Lander pledged to set up a tracking system within his first 100 days to identify what's been spent and metrics to measure whether the spending is meeting its goals. For example, Mayor Bill de Blasio allocated $230 million to a "City Cleanup Corps" that will put 10,000 residents to work picking up garbage, cleaning up graffiti and beautifying public spaces.
"I don't know who is being hired, I don't know where they're cleaning. I don't know whether they're doing a good job," Lander said of the project. "I don't think that's corruption, but it'd be a lot better if we had a plan."
De Blasio's office referred to a previous statement that said 50,000 city blocks have been hand swept by the Cleanup Corp.
Lander, a former urban planner and housing advocate who represents the Park Slope section of Brooklyn, is running against Republican Daby Carreras, a financial adviser at Spartan Capital Securities LLC. He's pledged to make climate change integral to his office and hire more minority and women money managers to steer the city's pension funds.
"I approach those with a real strong progressive bent," he said. "When BlackRock is saying, climate's got to be at the top of the list and Jamie Dimon is saying inequality is a systemic economic risk, it's pretty clear that the long-term challenges we're facing need to be central to how we're thinking about the economy and thinking about the city."
For example, Lander said he recently sat down with BlackRock Inc. Vice Chairman Matt Mallow to talk about how three of the city's pension funds can actively divest from fossil fuels in both public funds as well as private equity and hedge fund investments. BlackRock is advising the funds on the process.
New York City's next comptroller will oversee the city's roughly $100 billion budget as it claws its way out of an economic crisis prompted by the pandemic and ensure federal pandemic aid is used wisely. In addition to serving as a budget watchdog, the comptroller is the city's chief auditor, responsible for rooting out financial fraud and evaluating municipal agencies. The comptroller oversees five public pensions that collectively hold more than $270 billion in assets for 700,000 current and former employees and retirees.
While Wall Street is thriving -- Goldman Sachs Group Inc. has already posted enough revenue through September to give the firm its best year ever -- tourism and the commercial real estate markets remain sluggish. The city has recovered less than half of the 900,000 private sector jobs lost at the start of the pandemic. Unemployment in the city was at 14.9% in August, double the state and roughly five times the U.S. national average.
The next mayor is facing a $4.1 billion budget gap for the fiscal year beginning July 1, 2022, but the gap could grew to $5.4 billion, according to state comptroller Thomas DiNapoli. The biggest budget risk: the city hasn't identified $1 billion in labor savings that will fund wage increases in the first two years of the next round of collective bargaining. 
Labor contracts for three of largest unions representing police officers, firefighters and civilians have expired, and the teachers' contract expires next year. The outcome of the next round of bargaining will have a big impact on city finances. 
The next mayor could also set the city up for potential financial harm if he uses federal stimulus money to pay for new services, said Andrew Rein, president of the Citizens Budget Commission, a business-funded fiscal monitor. 
Rein says Lander -- who was endorsed by politicians like Alexandria Ocasio-Cortez and Elizabeth Warren -- has run a far more progressive campaign than Eric Adams, the Democratic nominee favored to win the mayoral election in November. It could be difficult for Lander to restrain a mayor who proposes a multibillion dollar increase to the city's capital plan to pay for affordable housing, Rein said.
"He's in the interesting position being arguably more progressive on spending priorities than the mayor he is supposed to be providing oversight over," Rein said.
Lander said he had a "warm, personal relationship" with Adams and would be able to speak candidly with him. He said the two often agreed on issues like affordable housing and traffic problems but have differed on areas like public safety and criminal justice. With bond underwriting and pensions, he promised coordination.
"You need to be able to be critical and yet build a relationship of partnership and implementation," he said. "That is pretty non-ideological," Lander said.
Lander has vowed to focus on auditing the New York Police Department's $5.4 billion budget to end wasteful spending. By matching settlement claims of physical abuse or warrentless searches with newly-released police disciplinary records, the city could create an "early warning system" to identify officers who repeatedly engage in misconduct. He also said his first audit will be centered on the Department of Corrections, which has come under fire for its mismanagement of the prisons on Rikers Island.
Like his predecessor, Scott Stringer, Lander said he will use the power of the city's pension funds to exert influence over the environmental, social and governance practices of money managers and companies the city invests in. 
He wants to better integrate ESG into portfolio management so that asset managers take into account systemic risks such as climate change, inequality and racial injustice. Lander said he will conduct so-called "equity audits" to reduce disparities in city services experienced by communities of color and that he would use audits make sure capital projects are on-time and on-budget.