NYC Banker Predicts Late Boost; Cuomo Weighs In: Election Update
(Bloomberg) -- The candidates for New York mayor stepped up campaigning and attacks with two weeks until the June 22 election. Brooklyn Borough President Eric Adams led in a new poll, which showed a big jump for former City Sanitation Commissioner Kathryn Garcia. U.S. Representative Alexandria Ocasio-Cortez endorsed civil-rights lawyer Maya Wiley.
The candidates face a June 11 deadline for their final pre-primary campaign-finance disclosures. The next and final Democratic debate ahead of the primary will be on June 16 and will only include "leading contenders" that must meet certain spending and polling criteria. Early voting begins June 12.
Through May 21, the last finance filing deadline, former Citigroup Inc. banker Ray McGuire had raised the most from private donors, with $11.7 million, but he was the only one of the eight leading Democratic candidates not accepting matching funds. Adams had raised more than $10 million, with $6.1 million of public funds.
Wall Street Candidate Predicts Late Boost
McGuire predicted a late boost to his campaign as voters pay more attention to his story, which includes working his way from a poor childhood to a Harvard education and then up the ranks to a leadership position at Citigroup.
During an interview Monday on Bloomberg Television, McGuire said his campaign is focusing on undecided voters, and also on becoming the second choice in this year's ranked-preference system. McGuire was the first choice of 4% of voters in a NY1/Ipsos poll released on Monday, down from 6% in April. That put him seventh among eight leading candidates.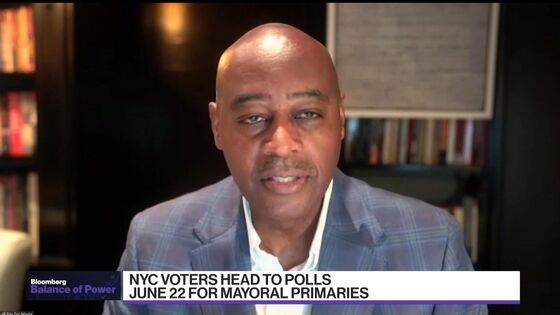 McGuire criticized Adams for his proposal to revive "stop-and-frisk" street encounters to fight crime. He called for more community centers, youth summer jobs, neighborhood-based "cure violence" programs and more accountability for police misconduct, while opposing any reduced funding for the police department. McGuire said the mayoral seat isn't a "consolation prize for me," a dig at rival Andrew Yang's failed White House run.
Candidates Criticize Washington Square Curfew
Candidates blasted Mayor Bill de Blasio on Monday for defending a 10 p.m. curfew in Manhattan's Washington Square Park, despite dozens of civilian arrests over the weekend that stemmed from clashes with police.
"Sending police in riot gear, the amount of money expended to rough people up, to get them out of a public place rather than to have outreach workers who actually connected them to services and housing, it was a mistake and when I am mayor we are going to make a very different choice," Wiley said Monday at a campaign event.
Police arrested 23 people in Washington Square Park on Saturday night after the NYPD and the Parks Department implemented the curfew in response to residents who complained about drug use and noise. On Saturday, the city sent dozens of police officers into the park in what appeared to be riot gear after park-goers refused to vacate the park.
Yang also was critical of the police response to the protests. "Sending officers in riot gear and militarizing a public park should never be the answer," Yang said in a Twitter post. "Residents' issues can be addressed without making the situation more dangerous."
Cuomo Weighs In On Mayor's Race
New York Governor Andrew Cuomo weighed in on the mayor's race on Monday. "As a voter, I'm saying focus on two issues: Crime and homelessness," he said. "The economy will come back if it's not being stopped by crime and quality of life."
Cuomo, who hasn't endorsed anyone for mayor, said it doesn't matter what the state does to spur the economy, "if people believe the city is not safe, you don't get past that point. You look at periods of growth in the city, it's always a period when you have low perceived crime rates."
Cuomo, who does not support the "defund the police" movement, said there was a "chronic problem" between the NYPD and members of the community. "There's a problem and a lack of trust."
Stringer Audit Targets Garcia
New York City Comptroller Scott Stringer, a mayoral candidate, on Monday released a blistering audit of the city's Sanitation Department under Garcia.
The audit blasted the department's April 2020 hiring of a food contractor whose owner had been convicted of a federal felony, and "without any evidence that the vendor had prior food sourcing, packaging, or delivery experience." The $14 million contract with Cariati Developers Inc. was terminated after three weeks due to poor performance, Stringer's audit said.
Garcia, 51, has surpassed Stringer in recent polls since winning endorsements by the New York Times and Daily News, which have praised her work creating a home food-delivery program for millions of jobless New Yorkers at the pandemic's height. In a Twitter post, Sanitation Department spokesman Josh Goodman said the comptroller's report wasn't an accurate description of the dealings with the vendor.
Annika Reno, a spokesperson for Garcia's campaign, said the audit showed Stringer was willing to use a "taxpayer-funded office to launch a smear campaign" against Garcia, who she described as "his biggest competitor."

Garcia "took on the unprecedented job of ensuring no New Yorker went hungry in the middle of a deadly pandemic," Reno said in an email. "Where was the comptroller during that time? At home, drafting reports and pointing fingers."
Adams led Yang, 22% to 16%, in the NY1/Ipsos poll, a reversal from April, when Yang led 22% to 13%. Garcia, who was endorsed by the New York Times and Daily News, was third with 15%, up from 4% in April. Stringer was the only other candidate with 10% approval or more.
Just 16% of likely voters said they were still undecided on their first-choice candidate. The poll was conducted May 17-31 and had a credibility interval of plus or minus 4.5 percentage points among likely Democratic primary voters.
Ocasio-Cortez Endorses Maya Wiley
Ocasio-Cortez, a Democrat who represents parts of Queens and the Bronx, endorsed Wiley for mayor on June 5, saying "we need a city by and for working people."
In 2019, Ocasio-Cortez surged to national fame by toppling a 10-term member of the House Democratic leadership and becoming the youngest woman elected to Congress, at age 29. Her coveted endorsement could unify progressive voters around Wiley.
Questions of Experience, Charges of Corruption
The top eight candidates met June 2 for the first in-person debate. Adams and Yang traded the most barbs, with Adams questioning Yang's lack of government experience and Yang saying Adams, a former police officer and state senator, has been investigated for corruption "everywhere you've gone."