NYC Coming 'Dangerously Close' to a Second Wave, De Blasio Says
(Bloomberg) -- New York City is coming "dangerously close" to a second wave of the novel coronavirus, Mayor Bill de Blasio said.
The city's positive test rate is above 2% and increasing, and cases are rising as well. "We need to do everything in our power" to control the virus, the mayor said on Monday at a press briefing.
De Blasio urged residents to avoid large indoor gatherings, get tested, wear masks and adhere to state travel quarantine rules, but stopped short of calling for additional restrictions. He said this is "one last chance" to avoid such actions, which could include closing schools and shutting down parts of the economy.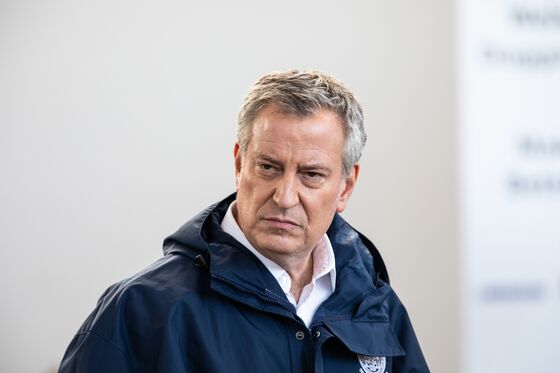 "God forbid this continued and we had a full blown second wave, it means a lot more restrictions," the mayor said. "We don't want to see that happen."
Daily reported cases on a seven-day average were 779, the highest in months. The percentage of residents testing positive for Covid-19 was 2.36% on Nov. 7, or 2.21% over a seven-day average, the highest in months.
"Those are numbers that should have us all alarmed," de Blasio said.
Hospital admissions for Covid remain at a "fairly low level," the mayor said, but there is concern those numbers will increase with the holidays. "Many of the things that make the holidays so special also carry the most risk," Health Commissioner Dave Chokshi said.