Nvidia Short-Sellers Reap $457 Million in Monday's Rout, S3 Says
(Bloomberg) -- Nvidia Corp. shares fell 15 percent on Monday after the company slashed its fourth-quarter revenue outlook, providing a windfall for the investors who bet that the stock would resume its recent descent.
According to Ihor Dusaniwsky, S3 Partners' managing director of predictive analytics, short sellers "are up $457 million in mark-to-market profits" on Monday, "nearly wiping away the $503 million of mark-to-market losses they incurred before today's price move." Dusaniwsky's comments were emailed to Bloomberg News.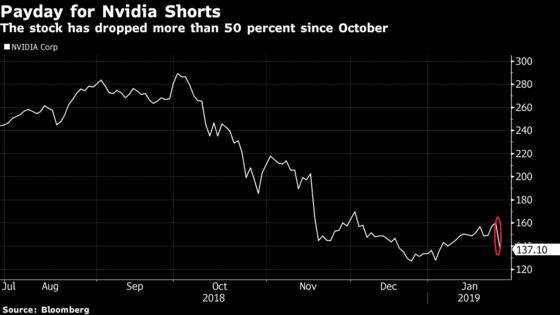 According to S3 Partners, a financial analytics firm, the number of Nvidia shares sold short has risen 55 percent since the company's weaker-than-expected forecast in November. Currently, more than 19.2 million shares are being shorted, up from roughly 12.4 million before the November results. That leaves Nvidia holding the ignominious position as the largest short among semiconductor companies.
"We're seeing additional short selling in the name today, even though short sellers are increasing their exposure to NVDA by over 500k shares, the vast majority of today's trading volume is due to long shareholder selling," Dusaniwsky wrote.
Shares of Nvidia are down more than 50 percent from a record in October. They had recovered more than 25 percent between a December bottom and Friday's close.