ECB Officials See No Need to Rush $800 Billion Bank-Loan Call
(Bloomberg) -- European Central Bank officials are in no rush to offer new loans to banks and should discuss different ways to design them before it becomes clear whether the euro-area slowdown requires a policy response.
The decision on replacing more than 720 billion euros ($800 billion) of existing longer-term lending could wait until the summer, Governing Council member Ewald Nowotny said on Friday. His French counterpart, Banque de France Governor Francois Villeroy de Galhau said policy makers would also need to make sure the funding is geared to the euro area as a whole, not specific banks or member states.
"The Governing Council will decide about this in due time," French central banker said in a speech in Lisbon. "We should look at the whole spectrum of possible tools, including various forms of LTRO, to decide about the recalibration of conditions and maturities."
The comments underscore how less than two weeks before their key policy meeting on March 7, policy makers are not all convinced they should act just yet. Crucial to the debate will be the ECB's new forecasts, although the decision on new funding for banks is looking increasingly unlikely.
Gradual normalization of policy is still desirable, Villeroy said. The ECB should pay close attention to economic data in coming quarters to get a better sense of whether the current slowdown is temporary or structural.
"It is good to wait and see what happens," Nowotny told reporters in Brussels."If it is a special factor and things change, I would say there is no need," for new loans to banks. An interim assessment of the tool will be taken in March, he added.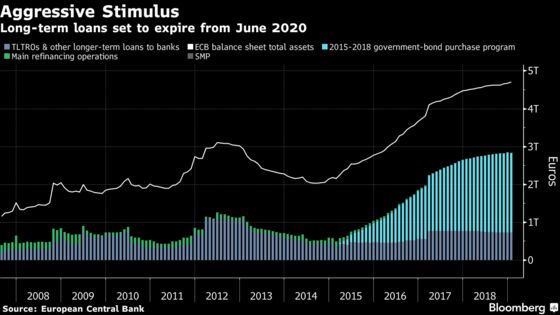 Governing Council members from across the policy spectrum have voiced interest in a new round, as banks could face a potential liquidity cliff or profitability issues when trying to comply with regulatory standards that require a certain amount of long-term funds.
The current program of the so-called TLTROs will start to expire in June next year and could deprive some banks, especially Italian ones, of cheap funding at the time when the economy there is already in recession.
Economic news in the region has taken a sour turn in recent months, though some of that may be due to one-off factors like changing regulations that hit carmakers in Germany.
"If these drags fade away, and if geopolitical risks recede, GDP growth could rebound from next spring or summer," Villeroy, one of the potential candidates to succeed Mario Draghi as president in November, said. "But should a downturn last beyond that horizon – a less plausible scenario but one which cannot be excluded – we would be ready to adapt our monetary policy guidance."
Another issue for the ECB is its forward guidance on interest rates.
With markets not pricing in a rise until well into 2020, Villeroy cautioned it was only so long that the ECB could keep its deposit rate in a negative territory before the policy could start to backfire by weighing on bank profitability.
"If we had to use negative rates for a longer period than expected, we should study pragmatically how to contain their possible adverse effects on the bank transmission of our monetary policy," he said.