Novogratz Says Bitcoin Risks Sliding More Before Seeing Support
(Bloomberg) -- After watching Bitcoin drop about 30% over the past month, cryptocurrency billionaire Mike Novogratz said there could be more pain ahead, though he expects the price of the largest digital asset to hold at about $42,000.
For Bitcoin, "$42,000 is at a pretty important level, and low 40s should hold," Novogratz, the chief executive officer of Galaxy Digital Holdings, said in an interview with Bloomberg TV. Bitcoin "trades heavy" as people start to sell across asset classes at the end of the year, but he isn't worried about Bitcoin prices in the "medium term."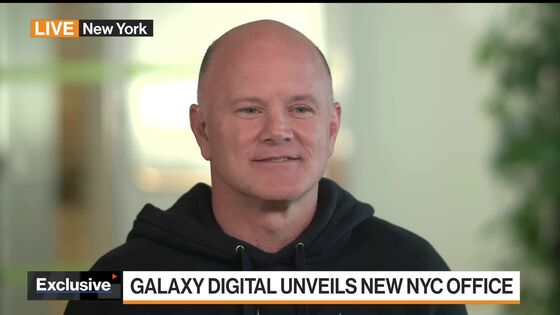 Bitcoin, trading at $46,966 currently, is down almost 30% from its record high of near $69,000 reached about a month ago as government and central-bank stimulus efforts get curtailed. "So much money is pouring into the space, it would make no sense that the crypto prices would go much below that," Novogratz said. "If you're long, it feels painful, but it's probably healthy."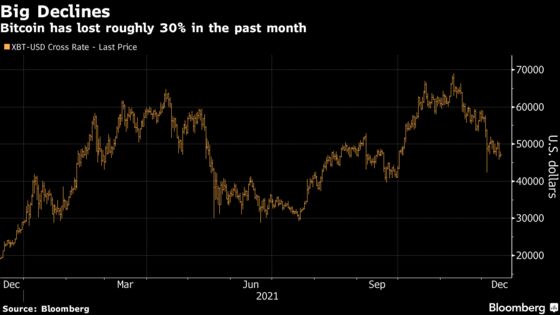 Galaxy Digital, which provides crypto-related financial services for institutional clients, is currently listed on the Toronto Stock Exchange but has targeted to list in the U.S. by the first quarter of next year. It opened a new office in downtown New York City near Hudson River. 
Novogratz expects 2022 to be the year of DeFi, or decentralized finance, through which financial transactions can be done automatically without an intermediary. DeFi "got unloved" this year as issues related to "Know-your-customer" policies hurt its prospects for institutional adoptions, but that can be solved in 2022, Novogratz said.