Novavax Plunges Amid Dismay Over Timeline for Covid-19 Shot
(Bloomberg) -- Novavax Inc. shares extended declines after the close of trading Monday following first-quarter results in which the company said it doesn't plan to file for authorization for its Covid-19 vaccine in the U.S. and Europe until the third quarter.
The firm's stock fell more than 11% post-market following an 8.8% decline during the session that came on the heels of a Washington Post report that said the biotech's plans to seek emergency use authorization for its closely-watched Covid-19 vaccine would be delayed.
The drug developer will not publish results from a highly-anticipated study of the vaccine until the end of the month, according to the report, which is weeks later than many on Wall Street anticipated. Investors fear there may be issues beyond just a simple delay in the vaccine's results that may be preventing it from filing for emergency use. The company also needs to reach an agreement with U.S. regulators over issues for an assay, which helps check the quality of its vaccines, the report said.
"As we continue our dialogue with regulatory authorities for authorization, we remain committed to promptly delivering our vaccine globally," Novavax Chief Executive Officer Stanley Erck said in the earnings statement.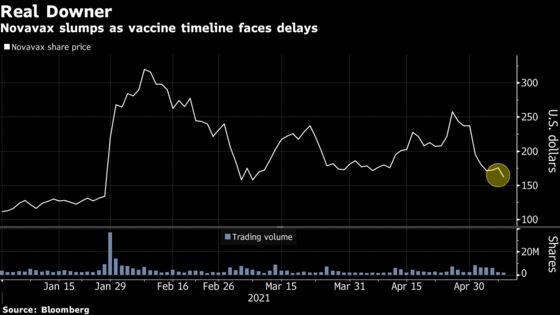 While Novavax and vaccine developing peers were hit last week by concerns surrounding a U.S.-backed effort to waive patent protection for Covid-19 vaccines, Monday's news flow was less cut and dry. As Novavax had its lowest close in two months, peer BioNTech SE rallied 10% after raising its Covid-19 vaccine sales forecast to $15.1 billion for this year.
"These are growing pains and I would remind investors this will be a three horse race basically between Moderna, BioNTech-Pfizer and Novavax," said B. Riley analyst Mayank Mamtani, who rates Novavax a buy and has a Street-high price target of $365. "This is a great entry point for investors."
The company's shares closed Monday at $160.50.
Novavax earlier published positive results from a combination trial of its Covid-19 vaccine candidate and its seasonal flu vaccine in hamsters.