Novavax Files for U.K. Authorization of Covid Protein Shot
Novavax Inc. applied for U.K. authorization of its Covid-19 vaccine, the first submission for a protein-based shot against the disease in the region.
The company, which lost out to rivals in the initial phase of vaccine development, said in a statement Wednesday that it completed its rolling submission -- an accelerated review of trial and manufacturing data -- with the Medicines and Healthcare products Regulatory Agency and filed for a conditional marketing license. Shares of Gaithersburg, Maryland-based Novavax rose as much as 16% in New York. 
Novavax's vaccine mimics the coronavirus's spike protein, sparking an immune response that prepares the body for a real infection. It requires two doses three weeks apart and can be stored at refrigerator temperatures, making it easier to transport than some messenger RNA shots.
The drugmaker submitted clinical data to the regulator from a trial of 15,000 volunteers in the U.K. earlier this year. The results showed efficacy of 96.4% against the original Covid strain and 86.3% against the alpha variant that first arose in the U.K. Data from a 30,000-person trial in the U.S. and Mexico has also demonstrated 100% protection against moderate and severe disease.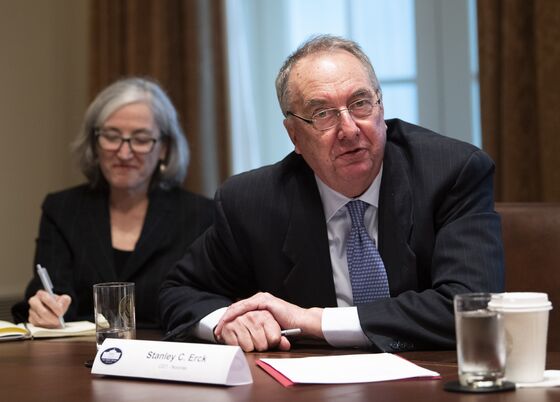 "This submission brings Novavax significantly closer to delivering millions of doses of the first protein-based Covid-19 vaccine, built on a proven, well-understood vaccine platform," said Stanley Erck, president and chief executive officer. 
The drugmaker is planning to apply for authorization in the U.S. by year-end, according to the statement. It applied to the World Health Organization for authorization last month. 
Novavax secured some of the largest funding from the U.S. government in the early stages of the pandemic, and the Trump administration agreed to buy 110 million doses. The company has lagged in the commercial development of a shot compared to rivals such as Pfizer Inc. and Moderna Inc., and its shares are down more than half since hitting highs in February.
Progress has been slowed by manufacturing problems and a production failure at a U.S.-funded vaccine plant in Baltimore, operated by Emergent BioSolutions Inc. Last month Novavax said at least 2 billion doses of its vaccine would be available in 2022. 
As of Sept. 10, Novavax has a deal with the U.K. to provide up to 60 million doses and overall is committed to 400 million shots in advance purchase agreements with New Zealand, Australia, Canada, Europe and elsewhere. The company also has an agreement with Gavi, the Vaccine Alliance, trying to speed up vaccinations in developing nations where inoculations are still far behind developed nations. Overall, some 1.1 billion doses of Novavax vaccine are due to be made available to countries participating in Covax, the program set up to deliver Covid vaccines equitably worldwide.
Novavax Chief Commercial and Business Officer John Trizzino suggested last month that the pandemic would probably last into 2023 and potentially beyond. He pushed back against the notion that there won't be enough demand for his company's product.
"Depending upon vaccination rate assumptions, depending upon booster frequency assumptions, I think we might find ourselves still being in demand outpacing supply 12, 18, 24 months from now," Trizzino said then. 
There are still tens of millions of people in the U.S. alone who are eligible for vaccines and haven't received them. "There's a long way to go, and we haven't yet factored in boosters," he said at a conference.
Beyond that, there's a good argument for boosting with a different technology of Covid vaccine than people got the first time around, Trizzino said. Novavax's recombinant protein nanoparticle-based shot -- used with an immune system-helping adjuvant -- could be a good fit for people who initially received mRNA shots, he said.