Novavax Deal Propels Meteoric Rally in Polish Drugmaker's Shares
(Bloomberg) -- Mabion SA's market value tripled in just two days after a deal with Novavax Inc. to produce a Covid-19 vaccine sparked a spectacular rally in the Polish biotech company.
The stock rose as much as 66% on Thursday following a surge of 89% the day earlier. Even the announcement of a new share sale, which would typically trigger a sell-off as investors expect to buy at a discount, failed to reverse gains. The shares were up 19% at 12:48 a.m. in Warsaw, valuing it at 975 million zloty ($258 million).
The Warsaw-listed firm said on Wednesday that it will start commercial-scale production trials of Novavax shot, with a view of becoming part of the U.S. company's supply chain. The deal is also an opportunity for Mabion to recover from its failure to get timely registration of its main cancer drug from U.S. and Europe's authorities.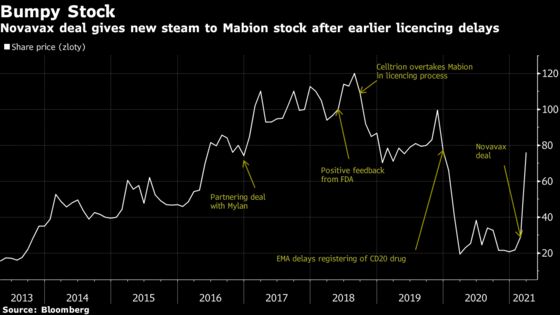 The buying frenzy is already sparking warnings that the rally may have gone too far, too fast. Very little is known about how much the company will eventually earn from the deal or when it will gain access to Novavax technology, according to Beata Szparaga-Wasniewska, an analyst at Ipopema Securities SA.
"Even though we believe the contract may be a game changer for Mabion, we think the share price overreacted," she said.
The company, which secured 40 million zloty in financing from Poland's state development fund PFR SA, could raise addition 188.6 million zloty from the announced sale of a 15% stake, based on the current market price. PFR is set to invest 10 million zloty in the new shares, Mabion Chief Executive Officer Dirk Kreder told Business Insider.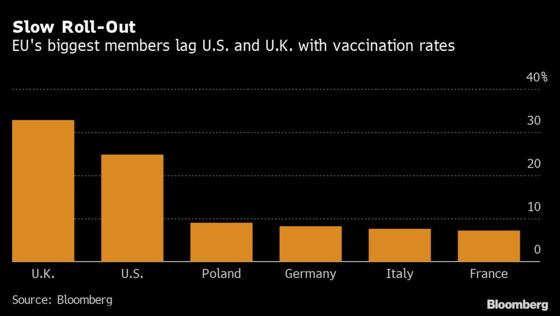 Mabion's venture with Novavax is the first such agreement in the eastern part of the European Union as the bloc lags behind the U.S. and the U.K. in vaccination rates, dashing hopes for a swift economic revival.
Poland, the country of 38 million people, estimates it may speed up inoculations in the second quarter, with monthly shots exceeding 5 million, compared with over 1 million a month in the first three months of the year.
"At the moment there are far too many unknowns in the potential cooperation to justify such optimism toward Mabion," said Katarzyna Kosiorek, an analyst at Trigon Dom Maklerski SA,.