Not Everyone's Abandoning Those Calls for Yield-Curve Inversion
(Bloomberg) -- The contortions of the Treasury market have shaken off some of Wall Street's most prominent calls for the yield curve to invert. BMO Capital Markets and JPMorgan Chase & Co. are among the few hanging on.
Yields at the short end of the curve will push above those at the long end if the Federal Reserve proceeds with its planned policy tightening, according to BMO interest-rate strategist Ian Lyngen. The U.S. central bank's latest quarterly projections show three 2019 rate increases, and in Lyngen's view the Federal Open Market Committee is unlikely to back off from that stance while the unemployment rate is pushing through half-century lows.
"It's too early to call the FOMC blinking on the hiking cycle and as a result our expectation for the curve to flatten to inversion remains in place," Lyngen wrote in a note Wednesday.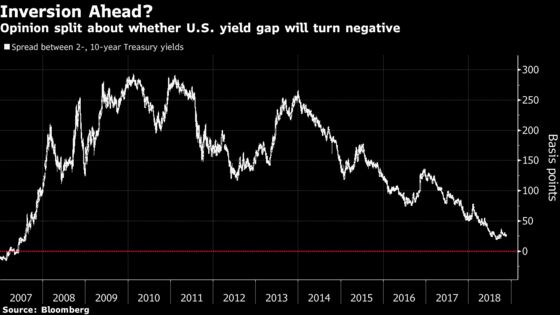 This position is longstanding, as BMO was among the first to call the curve-flattening trend that has gripped the $15.4 trillion Treasuries market for the past two years. The Canadian bank's tenacity stands out as many others have backed off flattening trades in recent months as long-end yields rose. Upward pressure came from stronger growth data, a pickup in wage inflation and an expansion in Treasury supply. The gap between the 2- and 10-year yields has pulled back to around 25 basis points from a decade low of about 18 in August.
JPMorgan takes an even stronger stance than the Fed on tightening, predicting four hikes in 2019 and an inversion of the curve in the second half of the year, according to a report released Tuesday.
Morgan Stanley's Matthew Hornbach -- another early subscriber to the flattener trade -- last month dropped his prediction for the 2- to 30-year U.S. curve to flatten completely. Still, the global head of interest-rate strategy wasn't ready to back bets on a steeper curve. John Herrmann, a strategist at MUFG Securities Americas Inc., has abandoned his call for inversion.
The path of the curve from here hinges on whether the Fed signals a slower path of hikes ahead, in response to weakening global growth, recent equity-market volatility and subdued inflation data. Markets last week seemed to embrace this prospect, a references to global economic headwinds from top Fed officials sent the benchmark 10-year yield tumbling back toward 3 percent.
Traders in short-end rates markets have scaled back their positioning for central-bank increases. And while a hike in December is still seen as likely, the market is now pricing in less than half of the tightening that the Fed itself projects for 2019.
While Lyngen isn't dismissing the possibility of a March pause, he argued that "the simple reality is that one of the hottest labor markets we're going to experience in our lifetimes doesn't justify an accommodative stance of monetary policy, even if inflation is a bit weaker than desired."
This view is shared by Societe Generale SA economist Omair Sharif, who has warned that markets are overreacting to the Fed's dovish undertones. In a research note Wednesday he flagged a busy schedule of Fed-related events over the next two weeks, including another Powell speech, "and we suspect that the occasions could be used to pull markets back towards the Fed's stated 2019 path."
Meanwhile, in the absence of any more compelling catalysts for Treasuries to rally, Lyngen is looking for short-dated yields to correct higher.
"While eventually there will be an inflection point, we're not there yet, and once this reality is appreciated by the market, expect another bearish move in the front-end."