Mexico's Peso Tops Major Currencies, Defying Latest Trump Threat
(Bloomberg) -- The Mexican peso defied expectations to become Tuesday's best-performing major currency despite U.S. President Donald Trump's tariff threats.
Markets are betting that the team Mexican President Andres Manuel Lopez Obrador sent to Washington may be able to make some progress. Marcelo Ebrard, Mexico's foreign minister leading the talks, said that he sees 80% odds for Mexico to negotiate a solution with the U.S. that will avoid tariffs set to take effect on June 10.
The risk-on environment for emerging currencies also put a floor under the peso, which is still down from Thursday, when Trump announced he was imposing levies on Mexican goods until the country took unspecified measures to halt illegal migration. Latin American currencies jumped, led by the Colombian and Chilean pesos, which both rallied more than 1.1%. Mexico's peso was a close third-place among developing nations, up 1% as of 12:26p.m. in New York, and the best performing major currency for the day.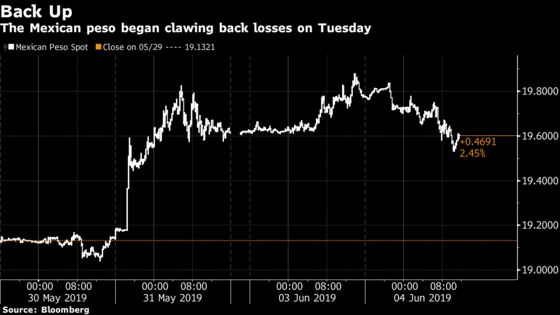 "This is a combination of less negative expectations for the negotiation with the U.S.," said Claudia Ceja, a strategist at BBVA in Mexico City. "Republican groups are already looking to effectively avoid imposing tariffs, the negotiation is tomorrow and Ebrard spoke of good chances of reaching an agreement."
At a press conference in the U.K., Trump promised to make good on his tariff threats. But many are betting that even if the U.S. goes through with a planned 5% tariff on Mexican goods, it will stop short of increasing those levies monthly to 25%, as announced last week.
"We can discard the more extreme scenarios from the announcement that Trump gave," Mexico's central bank Deputy Governor Gerardo Esquivel told Aristegui Noticias in a radio interview. He added that the central bank would factor any tariffs into their upcoming decision later this month, but that the 25% figure was unlikely.
"They are not viable, economically and politically," Esquivel said.