Toymakers Continue to Feel the Pain From Toys 'R' Us Loss 
(Bloomberg) -- Major toymakers are still reeling from the loss of Toys "R" Us, even as retailers from Best Buy Co. to Party City Holdco Inc. expand their kids offerings ahead of the holiday.
Mattel Inc. and Hasbro Inc. both warned investors in earnings calls this week that there are still more quarters of pain ahead after losing one of its major customers, which filed for bankruptcy last September and liquidated earlier this year. Their stock prices fell.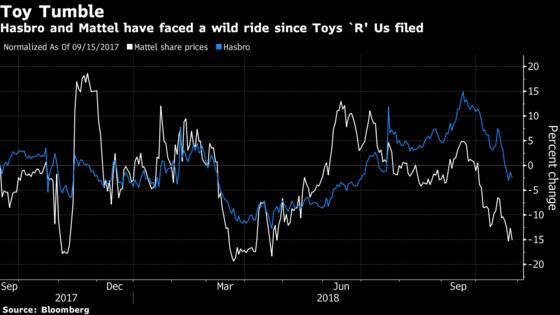 Hasbro Chief Executive Officer Brian Goldner spent much of his company's conference call Monday trying to convince investors that the disruption from Toys "R" Us would be short term, lasting just a few more quarters.
Rival Mattel initially impressed Wall Street when it reported after the market closed on Thursday that sales in North America rose last quarter, with shares initially rising as Barbie gained more ground. But the stock reversed course later when the toymaker said on its investor call that the impact from the demise of the toy chain, which also liquidated divisions in many other regions, would be greater in the fourth quarter.
The final quarter is the biggest period of the year for the toy industry, and that's why the impact from Toys "R" Us's liquidation will be bigger, Mattel said. The company forecast sales to decline at about the same rate as a year ago when they fell 12 percent.
"At first glance, it was a pretty positive result," Caitlin Noselli, an analyst for Bloomberg Intelligence, said of Mattel's results. Then the increased impact from Toys "R" Us "kind of shook the investor community."
Mattel fell as much as 10 percent in intraday trading Friday to the lowest since April before paring losses. Hasbro dropped the most in a year intraday on Monday, the day it reported.